Winter weather
According to the Met Office, New Zealand as a whole usually experiences 'disturbed' westerly winds in winter. Cold fronts are embedded in the westerlies, and these pass over the country at intervals of five to seven days. Less active fronts take longer, and if we are lucky there will be the odd sunny day between the passage of the fronts.
From time to time in winter polar air makes its way up from the Antarctic region, picking up moisture as it travels over the Tasman sea, and dumping it as snow on the mountains of the south (and central plateau of the North Island). Further north, it dumps the moisture as heavy, possibly thundery, rain, sometimes with hail. If low pressure systems deepen and become slow moving to the southeast of New Zealand, the freezing polar wind front can't move through, and cold southerlies can prevail for a while. (At the same time, the south-east low system spins heavy showers and rain onto the east coast of the North Island.)
When a polar blast is blocked and 'stuck' over northern New Zealand in late winter, we can get early spring blossom-destroying hail.
In 2013 we had warmer winter temperatures than is normal here, and july was abnormally 'dry'. In early august we also had relatively warm rain from subtropical winds coming down from the north east.
The winter and spring of 2014 may be shaping up to be under el Nino conditions, which for north of Auckland means a bigger chance of more wet easterly weather, and higher than normal temperatures in late spring and early summer.
1 June

Weather
2015 - warm, sunny, some cloud later.


2 June

Weather
2015 - the day started out sunny and warm, but ended with a thunderstorm and warm north-westerlies.


3 June

Weather
2015 - overcast, showery and rainy, some wind, bleak, cold but not too bad. The strong winds are from the north to north-west. I'm surprised they are cold. The ground is wet and boggy.
Kiwifruit
2015 - suddenly, the leaves on the kiwifruit, even the green kiwifruit, are starting to change color. Waxeyes infest the yellow 'Sally' fruit, but they set so heavily it doesn't matter. Some will go to the local school for the breakfast program. I picked a supermarket bag of 'Hayward' green kiwifruit. The fruit this year are a very good size, and there was quite a good set. These vine-ripened late-hung fruit are exceptionally nice. If I could only have two kiwifruit plants, it would be Hayward and Hort16A (the original gold kiwifruit).
Sadly, Hort16A is not available to home gardeners. I grew a dozen seedlings of Hort16A when it was first test marketed, and of the 6 odd female plants, only one was really worth eating ('Sally'). I finally cut out the rest of the plants a couple of days ago (they weren't going to improve with time!). Sally is prone to rot in storage (we don't spray), is a rather small fruit, and while the flavor is very good (as is the sweetness), it is still 'blown out of the water' by a properly grown Hort16A. Hort16A really is a remarkable variety, and in my opinion is not equaled by the recent release of the Psa resilient 'G3' variety.

4 June

Weather

2014 - relatively mild overnight, and a fine, warmish day. It was cool in the shadows, though
Avocado
The
Nysius
bugs I saw on the Pinkerton with the early flowers at the start of May are still there, which surprised me given the frosty days we have had. The flowers on this particular young Pinkerton tree were in full-on female phase in the late afternoon, whereas the young Carmen Hass trees are in full-on male phase and shedding pollen at the same time. Pity they are separated by around 100 metres. It is a little odd that Carmen is shedding pollen when Pinkerton is in female flower - both varieties are said to be 'A' type flowers, and are supposed to follow identical flower sex sequences.
Banana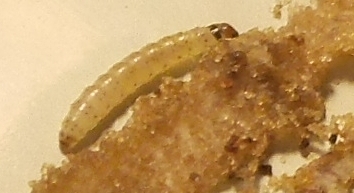 2014 - quite a few bunches are sitting on the plants, but probably won't ripen until spring or later. A scruffy, poorly set bunch I had ignored had some split fruit on it, and a sharp eyed whanau member spotted the larva of the guava moth living in under a little protective web on the exposed flesh of the banana. This is the first time I have ever seen a guava moth larva on banana fruit. Presumably it can't normally burrow through the skin.
Citrus
2014 - our earliest mandarin, although hammered by the lemon tree borer, is now producing some relatively small but very nice acid-sweet fruit. The Meyer lemon has a good crop of fruit. One of the sheep managed to grab a fruit and chomp it down with a look of determined enjoyment. It then went on to pick and eat another couple that were within reach...
6 June
Weather
2013 - stunning clear sunny day, not a cloud in the sky. It is calm and still in the morning, hot in the sun, but cool in the shade. The afternoon brings a gentle but cool breeze, and the rustle of dying autumn leaves reluctant to fall. At 1.30 pm it is 16oC (in the shade of the southern side of an avocado tree - it will be hotter in direct sun, in spite of the cool southerly airflow). The weather over the previous 6 days has been a mix of rain (sometimes heavy), showers, overcast, and only a little sun. The highest temperature over this period was a meagre 17oC. The nights have felt fairly cold, but the overnight minimum has been only 9oC, not too bad.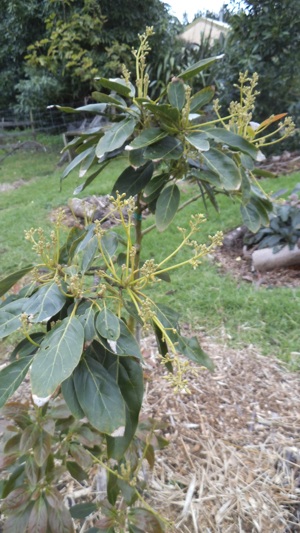 Avocado
2013 - the plants are in very good health, which is great as it 'set them up' for the spring flowering period. Some trees continue to flush new growth. The fertiliser I applied on the 8th of may is having its effect.
The tiny 'Carmen' Hass has a few flowers open at 1.30. They are in the male phase, and shedding pollen. Another Hass tree nearby has a few flowers open on the shady side of the tree, and they, too, are in the male phase and shedding pollen. This last tree has been spluttering out a few flowers for a while now, and while some flowers formed little 'pinhead' fruit, they all fell off. The fruitlets formed in late april on yet another Hass tree in the same area have held, so I am slowly becoming cautiously optimistic.


Kiwifruit
2013 - we finally picked the green Hayward crop - all 12 of them. Big, but. We also picked the green Skelton fruit. I had noticed a good crop on the vine, but at harvest they amounted to not much more than quarter of a supermarket bag. Where the hell the rest went, I don't know, as there are only a few bird-eaten fruit on the ground.
Citrus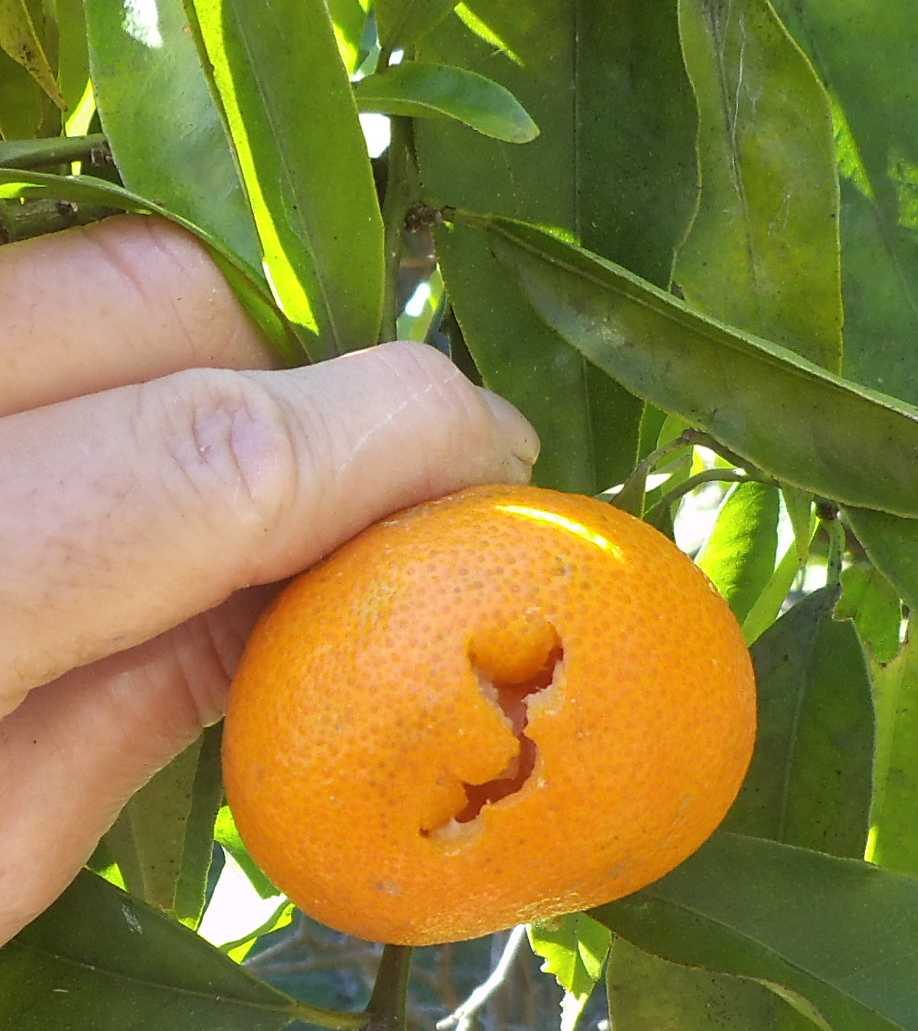 2013 - our sole producing mandarin has been hammered severely by either possums or kakas. We picked anything even faintly ripe, but they are pretty acid. I will set a possum trap down there tonight.
Macadamia
2013 - nuts continue to fall,and there are heaps on the trees, Rats have started on them.
Pecan
2013 - for the first time in a few years there is a very modest crop on 2 of the trees (Grabohls and Giles). The top 2 tree of the row (Giles and Colby) are almost bare, where Grahbols is mainly green, with some color change.

Black Sapote
2013 - the tree has clearly flowered recently, and is setting more fruit.
7 June
Weather
2013 - dead calm and still, but totally overcast. Cool. By mid afternoon light misty drizzle set in. It remains totally still.
8 June
Weather
2013 - sunny, some cloud, and a breezy westerly blowing. The overnight low was 9oC. The temperature at midday is 16oC.
10 June
Weather
2013 - totally foggy, bleak, cold, and clammy until late morning when the fog lifted and the sun came out. The rest of the day was calm, sunny and warm. The air temperature at 1.30 pm was 15oC. The overnight low since the 8th was 8oC. The high over the same period was 18oC.
2014 - the highest temperature over the last 6 days was 18.5oC, and 17oC to 18oC has been the prevailing high over that period. Night-time lows have been around 8oC to 9oC (apart from the 9th, when it was a warm 15oC), with a couple of nights dropping to about 5oC or so. It rained for a big part of the day yesterday, overnight, and it looks like it will rain persistently today. The weather is from the northeast, which explains the extraordinarily high overnight temperature on the 9th. By afternoon, rain set in - and then the wind came up. It literally blew a gale for the rest of the day and overnight. Gusts hit 171 kph in the Hauraki gulf.
2016 - it has been an amazingly mild opening to winter. Apart from a couple of cold mornings (with a little frost in low areas of Auckland), it has been quite mild, a mix of beautiful sunny days and overcast days. We have had a lot of northeasterly weather, with a little rain, a thunderstorm, and strong winds. Today is still and overcast, mild and warm. The overnight low is predicted to be 13oC...


Pests
2013 - we caught another possum by the feijoas last night. a female with a joey. Two for one. That's a bargain...
Feijoas
2013 - only the late tree, a nameless variety, bought from a local nurseryman, still has fruit. They are quite big, and the tree is very productive, they store well (so I am told by the feijoaologist) but their taste (again according to the feijoaologist) is inferior to other varieties.
2014 - the fruit still drop, literally one or two of any size, and more that are very small, clearly late set and barely pollinated.
Bananas
2014 - a small bunch of 'Hamoa' fruit are ripe and being eaten by the waxeyes. This variety is supposed to have a very good flavor, but I have been unimpressed with it in the past, and pretty much ignore it. However, the last bunch, albeit small, was first rate, Maybe it tastes better after a long hot summer, such as we have just experienced. I may give it another look...
Apple
2016 - the pomologist picked several buckets of Horei fruit off our small tree. It is a prodigious fruiter. As she had cunningly netted the tree, most are undamaged. The fruit are small, moderately sweet, and crisp. They have a slight sprightly acid note, but not much. Some people would want more sweetness, but I think they are fine. But with a bit of bitterness.
11 June
Weather
2014 - It blew like hell all through the night. The morning dawned still and totally overcast, with low cloud obscuring every thing. Temperatures were mild. By early afternoon there were substantial patches of sunshine, a light easterly breeze, very mild and pleasant. I checked the rain gauge, and we have had 100mm of rain since the 25th of may. The june warmth and rain is promoting very 'growthy' conditions for the grass.
Tamarillo
2014 - still literally the odd 'really the last' red tamarillo fruit is falling

Avocado
2014 - a dozen or so immature fruit were blown off the trees, mainly Hass. Most were blown off the tallest and most exposed tree. We will ripen them in a bag with some bananas, when they might be acceptable for guacamole. If they are too tasteless and watery we will give them to the chooks. They love avocado, immature, ripe, or half rotten. Interestingly, the Pinkerton trees didn't lose a single fruit, even although the fruit are larger and heavier and hang on long stalks which would swing in the wind. They are fairly well sheltered, and naturally very small trees, which possibly goes a long way in explaining there wind resistance. An adjacent young Reed tree, much taller (even although it is much younger) did lose an immature fruit. But only one.
12 June
Weather
2014 - Sunny and a little cloud, followed by showers then rain late in the day. The daytime high was only 16oC, but it felt a lot warmer in the sun. The night time lows are still around 9oC or better, so pretty mild for the time of year.
13 June
Weather
2014 - calm a sunny at first, without a cloud in the sky. The wind suddenly started up in the late morning, but it remains warm, hot even in the sun.The wind died out in the afternoon. A spectacular day.
Citrus
2014 - varmints have suddenly started on our two main mandarin trees. Very disappointing. It is almost certainly Kakas that are the culprits.

Feijoas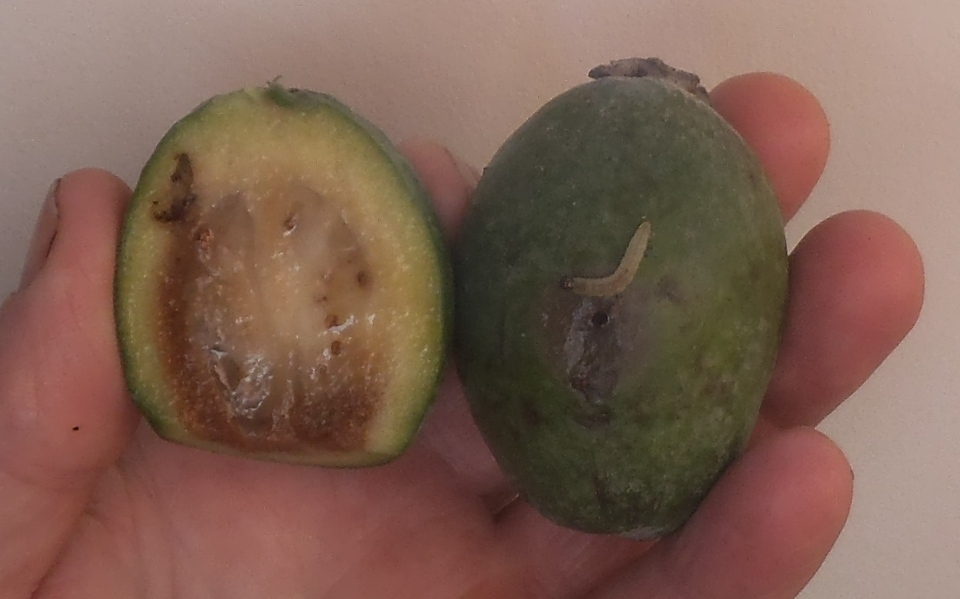 2014 - there are 2 trees still dribbling fruit. One is known by us as 'june' because this is how the person who propagated it described it, the other is a seedling almost at the bottom of the row. Both normally produce OK sized fruit, and some fairly good fruit still drop, but most are pretty small. The feijologist pointed out to me today that the bottom tree has recently set fruit 'coming on'. They look pretty small and scungy to me, but it may continue its trickle well into june.
Also of note, we found a feijoa fruit badly affected with guava moth today. It had been stored for several weeks, whether that is significant or not I don't know. This is probably only about the third time we have found a fruit with larva damage in it. The sheep are usually let in from time to time to eat possum damaged fruit and smalls not worth collecting. Maybe this helps keep the infestation down to an extremely low level. Maybe we have just been lucky. I don't know. Certainly, in places north, guava moth destroy large numbers of home garden feijoas. Maybe our turn will come.

15 june
Weather
2013 - totally overcast and still. A little might drizzle, then low cloud. There is the faintest whisper of a northeasterly air movement. While it is not warm, it is certainly not cold. Temperature at 1130 was 13oC. The high over the previous 4 days was 19oC, and the overnight low was 11oC. Pretty mild, really. Weather over the last 4 days has mainly been rainy, overcast. Rain is forecast later today, and a northeasterly air flow for the next few days. Temperatures are expected to be pretty good. Excellent conditions for putting some fertiliser under the 'subtropicals'.
Kiwifruit
2013 - leaf drop is well under way now. Only Hayward is still looking relatively green.
Tamarillos
2013 - I keep thinking "thats about it for the tamarillos", and they keep on producing. They are now starting to flower again.
Feijoas
2013 - I noticed a few ultra-late set fruit on the june fruiter. These would not be full size and ready for a months or so yet. My ideas of feijoas in late july or august were popped by the feijoaologist, who was totally unmoved by my exciting news. She says they often set very late fruit, but they never size fully, and they have no sweetness or flavor when the stunted fruit do ripen, and "are not worth eating". Oh well...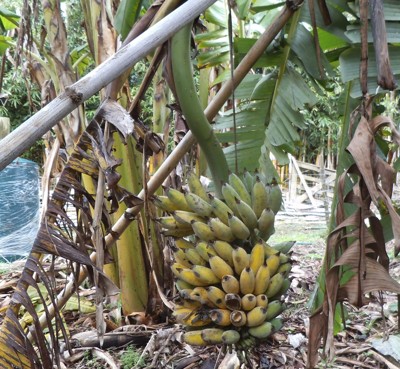 Bananas

2013 - There are 4 more bunches that will ripen this winter. In spite of being propped with bamboo, one fruit-bearing trunk has snapped, lowering the bunch to ground level. Some varmint has taken advantage and eaten the end off a number of ripe fruit . Another flowering trunk has keeled over even before the bunch has formed. One possibility is that t it has some root rot, and is simply not well anchored. Banana suckers arise from a bud low on the side of the 'mother plant'. If the clump is a bit elevated, or the bud is nearer the soil surface, it may not have enough roots to hold up the weight of the heavy flower bud, especially if the trunk grow up at an angle, or if it has a little root rot. In this case, the fallen trunk has hit an adjacent clump, and put some of them on a lean, in a kind of 'domino effect'.











Pests
2013 - I had been informed the other day that there were still 4 nice looking mature fruit on the big old Hass tree. When I went to collect them this morning I found that 2 had been freshly eaten overnight. The amount eaten suggests there might be 2 possums involved. I had refilled the poison bait stations on the forest edge 4 days ago, but the bait can take 5 days to kill. Maybe these animals came from the regenerating forest on the other side of the road. Anyway, more bait will go out, and I'll set a couple of kill traps under the tree before the rain.
Avocado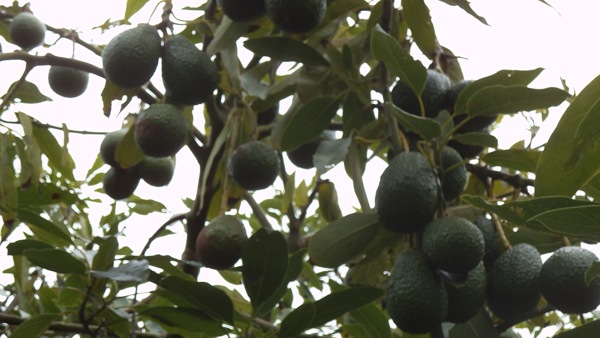 2013 - Most of the trees are looking very good. Several of the more unusual cultivars have never done well, I suspect they were propagated into a phytopthera infected soil by the nursery. Anyway, they have had a lot of woody mulch and pine-based potting mix, and are spluttering along. I will give all the avocados some general fertiliser before the rain. The flower buds on the Sharwill, Pinkerton and Fuerte trees are very fat and well developed, as are those of one of the Hass trees. Carmen Hass continues to open half a dozen or so flowers every day.
The fruit maturing on our 'middle aged' tree has sized incredibly well. The crop is not very big, but it is heavily concentrated in the top of the tree. I suspect we will be able to 'size-pick' the odd fruit in august. Overall, this one tree will have seen us with fruit from spring 2012 until mid june 2013. It will 'rest' for 6 weeks, then we will size pick some fruit in august. That is only 6 weeks off year round availability from the one tree. Obviously, I don't expect this neat 'flow' every year - spring 2013 into summer-autumn 2014 will be a light crop, and things won't be 'back to normal' until the spring 2014 to autumn 2015 season.



Pecans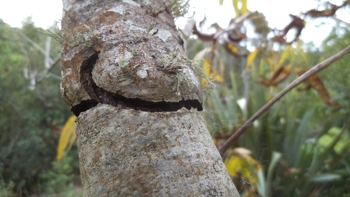 2013 - our 'Giles' cultivar has a good crop (for our conditions, anyway), but the nuts tend to stick on the branches and not drop. We have to try to knock them down with a long bamboo stick, but the tree is too big for this to be very effective. The tree is now fully dormant, in contrast to 'Grabohls', the other variety that 'sort of' reliably bears here. Grahbohls is probably pollinated by a nearby variety known only by the code name 'RH7' (and possibly by 'Cherokee', a cultivar that has a smattering of nuts in some years).
A few other trees bear a few nuts from time to time, and one such is 'Terry". This is named after the nurseryman Terry Hatch, of Joy Nurseries. The nursery brought in some pecan seeds several decades years ago and some seedlings started fruiting in the early 1990's. A member of the Auckland NZ Tree Crops Association visited them at that time and collected nut samples. One tree was found to have very good nuts. These were shown to Owen Long ('Mr Pecan"), and he was sufficiently impressed to take graft wood from this seedling at the Hatch Nursery.Thus the cultivar 'Terry'. This is the second year the tree has had a few nuts. The branch carrying them has gone totally dormant, whereas the rest of the tree is still in the leaf color and drop stage. The reason soon became apparent - the branch has been ring- barked by by the dreaded puriri moth caterpillar. This has caused carbohydrates to accumulate above the ring-bark and promote flowering. The branch, however, looks well on its way to being dead.

The 'Terry' cultivar (left in the photo) has impressively long 'fruits' on the tree. But once the green fleshy husk is removed, the nuts are found to be skinny, and nothing like as long as the long outer husk would suggest. Grahbohls (right in the photo) is much bigger, even though it has a tendency to not be completely filled with kernel. Grahbols is the biggest pecan by size we have here, but perhaps not necessarily by kernel weight per nut.
One tree - 'Colby' - has never fruited. It is a small tree, but it has its female flowers very early, and we have no other varieties shedding pollen at that time.
Fresh pecans are probably the most delicious nut there is, and its just a pity most varieties make such big trees and are somewhat unreliable in volume of production.



Hazels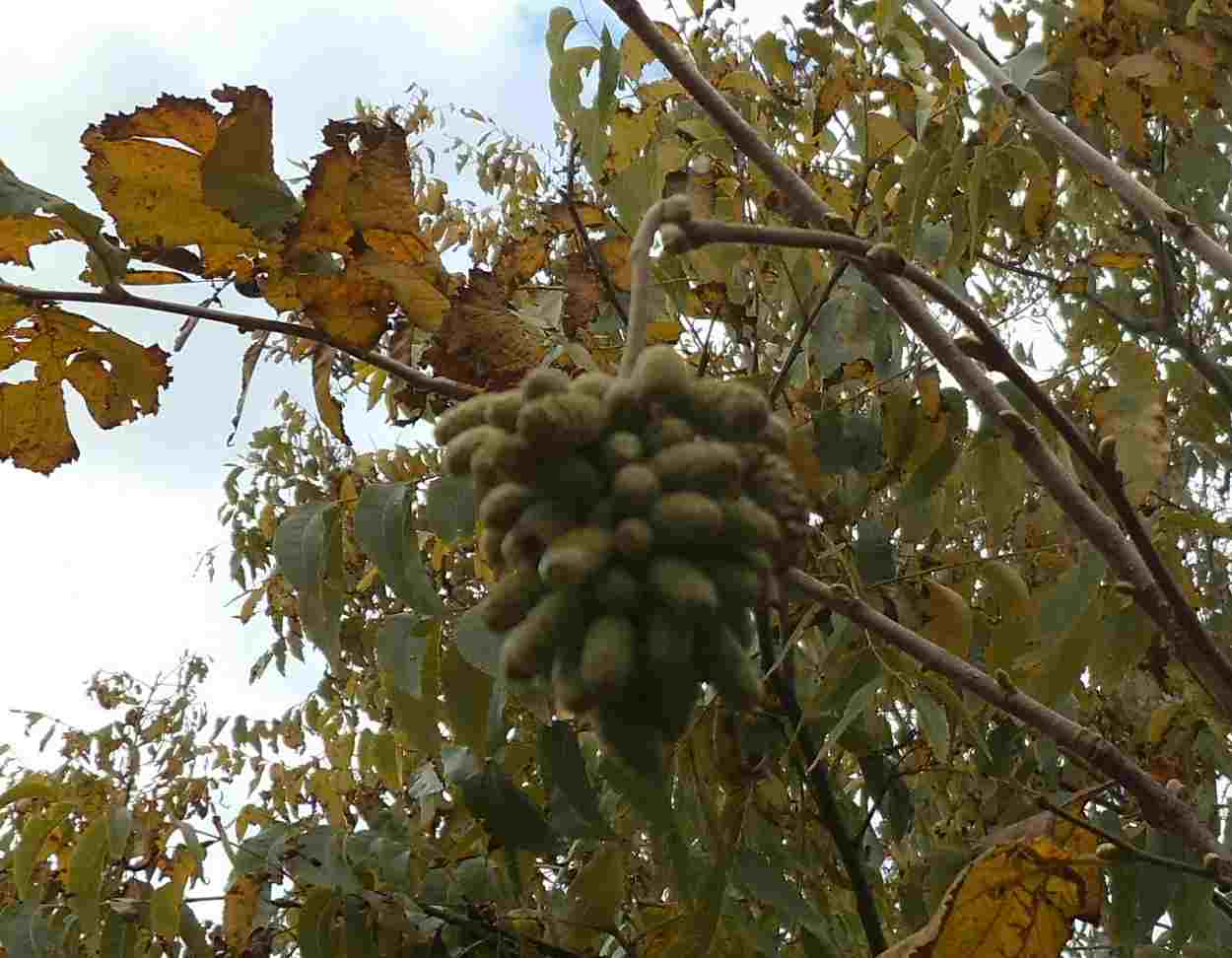 2013 - the trees are now pretty much bare, although I notice a few of the more warm-adapted varieties we bought recently still have some green leaves. One cultivar, possibly 'Lansing", has the normal single catkins, but also several clusters of multiple catkins. I haven't seen this before in hazels, and wonder why it has happened.










Pine Nut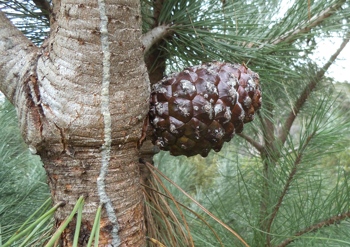 2013 - Our single pine cone is now a deep mahogany brown. It looks almost as if it has been varnished. This its final winter on the tree. The cone can be harvested in spring and left to dry, or it can be left on the tree until summer, when it will start to open up in hot weather. It has taken three years from the initial female 'flower' to fully formed mature cone carrying a cargo of precious pine nuts!
The new 'candles' (shoots) at the top of the tree are growing vigorously. (If the tip of the most vigorous shoots start to swell in spring, it means a female 'flower' is forming. If not, it will just keep on growing into a new shoot. barren of new cones)


18 june
Weather
2013 - Sunny and warm, if a little windy. At 1230 the temperature was 19oC (also the maximum for the day - overnight was 12oC minimum). By early afternoon the skies had completely clouded over with threatening black rain clouds. As at 4.30 pm, nothing but a brief shower has eventuated.
21 June
The winter solstice. The shortest day of the year.
Weather
2012 - It has been fairly mild so far, apart from a week of very cold days. Frost coated the valley floor, but being higher up, we seem to have escaped it.
Avocados
2012 - All the Reed avocado fruit have finally dropped, but one Hellen fruit remains grimly hanging on. Only Pinkerton and the 'off-season-flowering' Hass tree have any flowers open at this time (and a self-sown 'wild' seedling growing under by the deck). There are very few pollinating insects around, apart from the odd blowfly methodically exploring the flowers.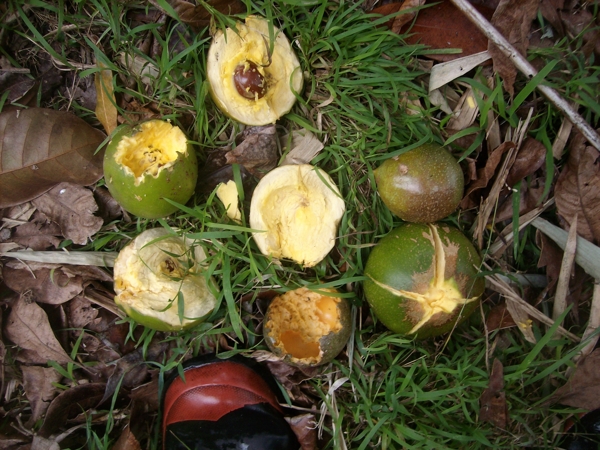 Lucuma
2012- June is the beginning of the lucuma fruit season. These trees are a bit of a puzzle. We have had them for 20 years or more, and they drop their large green fruit about this time of year. Sometimes they split when ripe, sometimes they don't. Possums love them. Sheep also eat them, and seem to also enjoy eating the very large shiny seeds. The flesh is sort of 'dry' and crumbly, slightly sweet, tasting somewhat of butterscotch, but the odd 'powdery' mouth feel and lack juice makes it a fruit you don't really want to eat. On top of that, it is impossible to know when they are ripe. Picked fruit simply don't soften, but ultimately become discoloured and 'off'. So we leave them for the sheep. Seems a shame, as they are fairly productive - unless affected by
Phytopthora
root rot.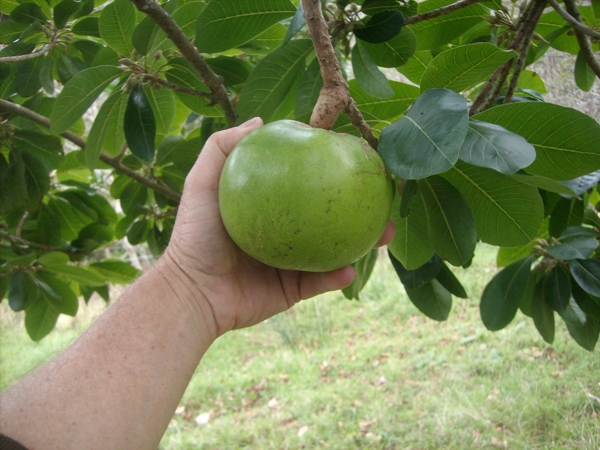 Some trees have big fruit - with equally big seeds.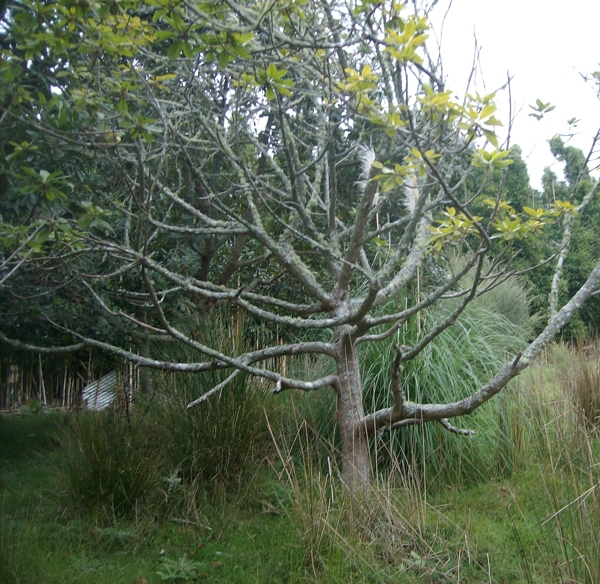 Phytopthera
affected tree in a poorly drained patch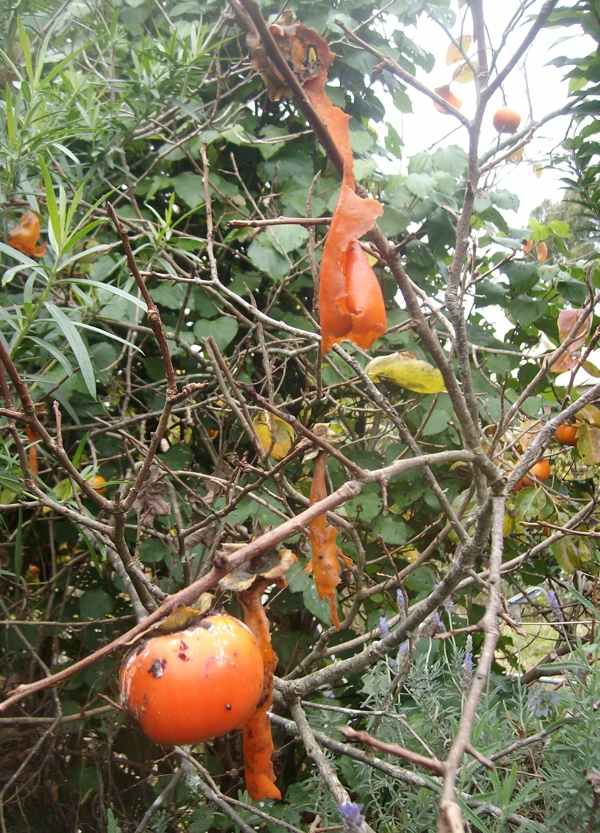 Persimmon
2012 - The waxeyes have cleaned out the last of the 'Fuyu' persimmons, leaving behind on the skins. I notice they don't touch the very astringent fruit of the seedling trees by the driveway.
Kiwifruit
2012 - Curiously, the waxeyes have done relatively little damage to the kiwifruit - so far.
Our seedling of Hort16A still has some greeness to its leaves, but it is fading fast. The branch grafted into the green kiwifruit variety 'Skelton' has greener leaves than the parental plant on its own roots. Indeed, its leaves are greener than its 'Skelton' host, which is a little odd.
The kiwifruit with the greenest leaves is the 'Hayward' green kiwifruit. The birds haven't touched the fruit,so they should be really sweet when we do finally strip the vine. As long as the birds don't touch them, its easier to store kiwifruit on the vine than pick them. 'Picked' fruit inevitably encounter ethylene gas evolved from a damaged or 'fizzy' (internal botrytis rotted) fruit. Then ripening is triggered in the whole container-load.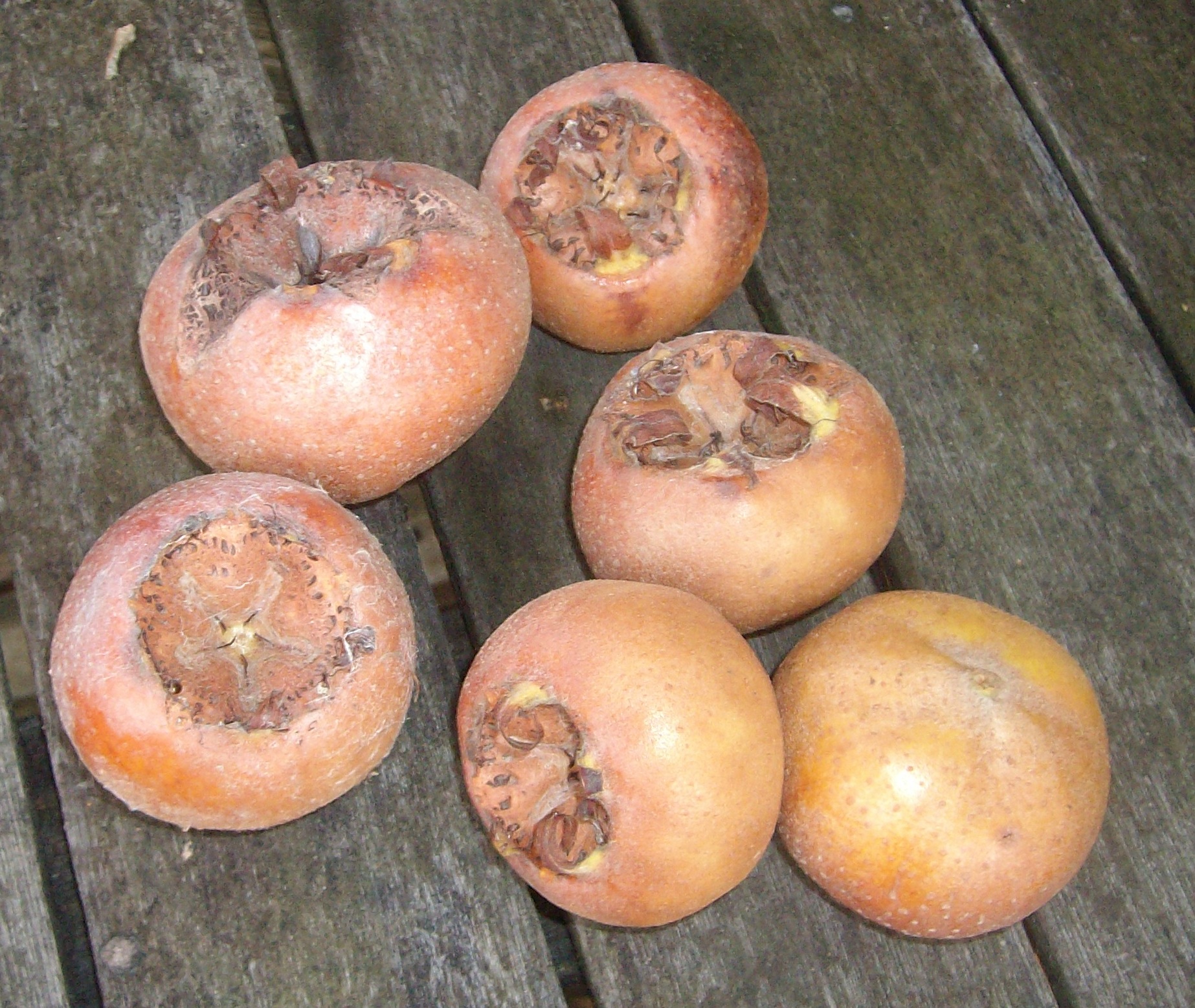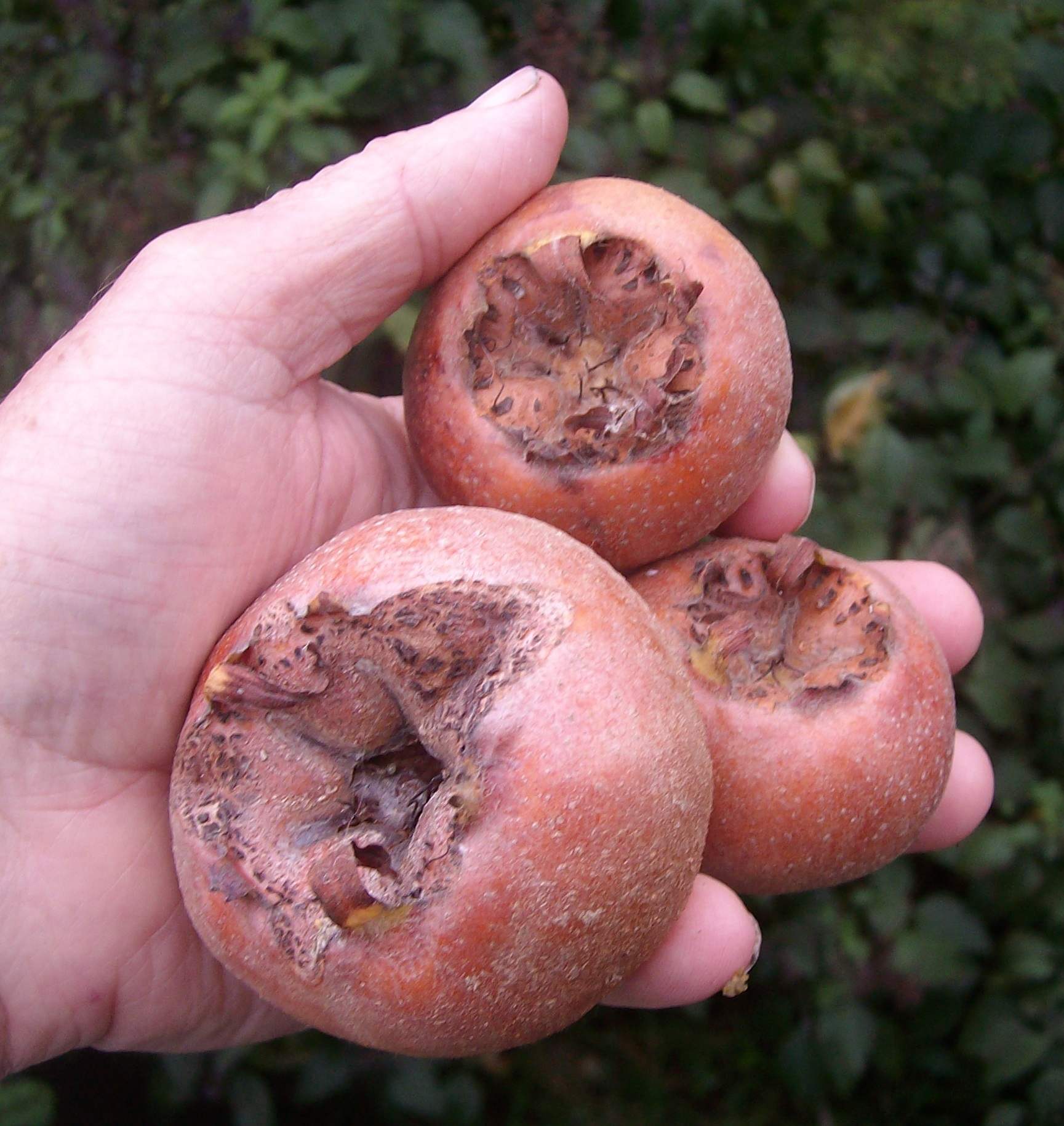 Medlar
2012 - Another odd-ball winter fruit is the medlar. When fully soft ripe it tatses liked stewed apples - but it has large furry seeds in it. Some fruit don't become 'soft ripe' ("bletted"), they become soft-rotten. And its not always easy to tell the difference. So while the fruit is 'interesting', it is not of much practical use.










june 23rd
Weather
2013 - The weather has really 'packed up'. The daytime maximum hit 18oC on 19th, but since then it has been downhill. A large Antarctic southerly sweeping the south (heavy dumps of snow) has finally caught up with us. We have had a lot of rain (sometimes horizontal), and it has been windy and cold. The ground is saturated, the Kumeu river, running high from all the rain falling in its Waitakere and Taupaki catchment, overflowed at Woodhill, closing State Highway 16 for a short while. The overnight low to date has been 6oC.
Avocado
2013 - Flower buds continue to fatten. The few Pinkerton fruit are starting to size up well. Several new season Hass have blown off the tree. They probably won't ripen (or taste like soap if they do ripen), but we picked them up anyway. With avocados hitting $4 each in the shops, I wouldn't be surprised if commercial growers windfalls are on-sold to fruit shop and markets (supermarkets won't touch them - quite rightly).
Kiwifruit
2013 - Hayward green kiwifruit is still relatively green, our Sally yellow variety is still greenish.
Tamarillos
2013 - still some fruit fall. They are having a good long season. Just when I think they are done, they aren't.
Pine nuts
2013 - The 'maxipinyon' trees (
Pinus maximartinezii
) new needles are at full extension. The needles are bluish tinged (glaucous), and the trees look really attractive.
june 24th

Weather
2016 - Sunny and warm. T - shirt weather!
june 25th
Weather
2016 - Raining. Total low cloud cover. A moderate easterly is blowing, but it is still relatively warm. The ground is saturated. The grass is growing like crazy.
Bananas
2016 - although wind has torn the leaves, the bananas are deep green and looking fantastic. Even the more tropical varieties are still looking good. A few new flower buds are appearing.
Avocado
2016 - I picked the last three Reed avocado fruit today. They would have hung on, but the odd one drops at random, and it doesn't last long on the ground before being totally consumed. The odd seed is sprouting within the fruit, but the growth is minimal so far. It is amazing how long this little tree's fruit hang on. The big Reed finished some time ago. Pinkerton fruit have been sizing up steadily, and are now a very good size. Maluma has also sized well, but it is a little behind Pinkerton. One Hass tree has a very modest crops, and another smaller tree has a very heavy crop on board. Interestingly, the fruit set is very even, from top to bottom and all around the tree. If this kind of crop holds for all of New Zealand, there will be a massive domestic crop this year.

june 27th
weather
2014 - it has been rainy and/or showery for the last 2 weeks. We have had over100mm of rain in this time. It has been astonishingly mild. The high in the last 2 weeks was 19oC, and the low 7oC. Most days are relatively warm. Spring-like, really. Today, the weather is from the northeast. The breeze is actively warm. We have had lots of showers, and later heavy but brief downpours of warm rain. Some thunder rolls in the distance.
Kiwifruit
2014 - leaves remain on many of the plants. They have yellowed, but not fully, although the leaves are slowly falling. One seedling yellow kiwifruit plant has burst into flower...pity there are no females flowering.
Avocado
2014 - fat flower buds on many trees more and more apparent. A small, late set Pinkerton fruit that had skin damage developed a little bottom end rot and fell off the tree. Varments had eaten part of it by the time I found it, but there was enough flesh left for a good taste. The color was good, with the wide band of light lime green under the skin that I associate with immature fruit. What was striking was that running through the slightly watery mouth feel was a richness of flavor, and a distinct oiliness. Both myself and the resident avocado connoisseur agree it is better than the size-picked early new season Hass fruit we have so far tried, and better than our august ripening Fuerte/Bacon seedling. If an effective pollinizer for Pinkerton's earliest flowering can be found, we would have a superior quality late june and august avocado - and this would run into the earliest good quality size-picked Hass fruit in august.

June 29
Weather
2014 - yesterday was more or less fine, quite warm, the overnight low was 7oC, and the day is shaping up to be mixed cloudy and sunny, with no wind. The prediction is for northerly weather for the next few days, then the more normal south and west airflows to come through about the 2nd of july and drop the temperatures.
Livestock
2014 - the grass is growing quite well, although the hungry pregnant ewes keep it well trimmed. The warmth is a real bonus. The ground has drained after all the rain, and the moist conditions are ideal for the exploding earthworm population. I went to harvest a little sheep poo for the garden yesterday, but it was difficult to find much at all. The worms remove it virtually overnight. An amazing contrast to summer, when the grass was covered in sun dried sheep pellets.
Nature
2014 - blackbirds are singing everywhere, and clearly the mating season is "on". Kakas have re-appeared, and the odd bird kicks up a real racket in the morning before disappearing to wherever they go during the day. The unusual and intriguing '
coral fungi
' have appeared near the forest edge, the same area they have appeared in past years. Besides the usual dull yellow one, there is also a slightly more robust orangey one I haven't seen before.
Pests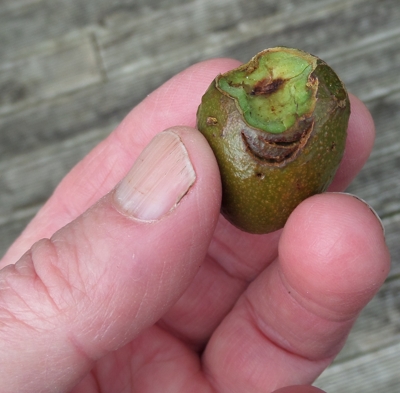 2014 - There has been great success from one particular Timms trap set up not far from the house. This is attended by the resident fig-berryfruitologist, and she attributes the startling success to her bait - a slice of apple with "quite a lot of cinnamon" and "just a dab" of plum jam and peanut butter. After burying the last boy (my job...), I reset the trap for her, using her formula. Sure enough, last night we killed another possum, same spot, same bait recipe. That's 5 possums from the same trap in less than 2 weeks!!!
A possum has tasted the biggest of the newly set Carmen Hass fruit. In doing so, it pulled it off the tree. The fruit is (was!) near ground level, and I think I can make out the impression of two teeth, so it is likely a possum rather than a kaka. A cherimoya tree not far away had several big but immature fruit pulled off and eaten last night. Not far away in the other direction, the Sally yellow kiwifruit has fruit eaten by possums, as well as the usual bird damage.
So I have put out 3 Timms kill traps and 3 possum bait stations in the surrounding area. The battle never ends.


Avocado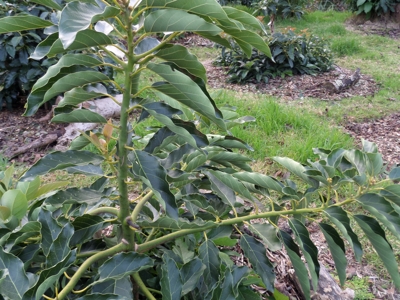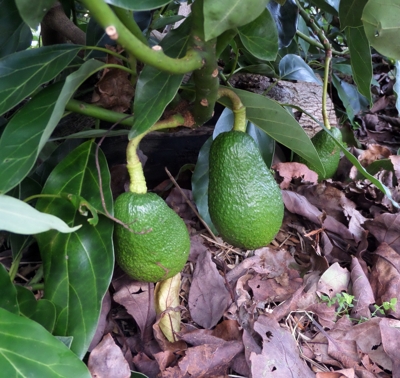 2014 - I have found Gwen a hard variety to grow, I don't know why. However, there are several successful grafts on Reed seedlings that are now doing well. One tree has lighter leaves than the other, which might be a rootstock effect. What impresses me most about these young trees is the fact that they have very stout and thick stems and branches, even at a very young age (photo left). The internodes are close, and the small side branches are relatively short and spur-like. Gwen is supposed to be a smaller variety, and based on the current growth, I would say it will be ideal for keeping small but productive. There are several young Pinkerton trees nearby, grafted at the same time, and they, too have thick stems (photo middle). Pinkerton is, of course, a small tree (or can be kept small relatively easily).
One 'downside
'
of growing trees in a smaller form, with a skirt of branches right to the ground is that the fruit on the lowest branches sits on the ground. This could make them more liable to rot. There are only a few fruit on this Hass tree, but if I want to see them mature, I will have to prop the branch off the ground.


Lucuma
2014 - some trees have very large fruit, and the odd one has fallen. The sheep eat them. And the seeds. Many trees are still flowering, and fallen flowers litter the ground under most of the trees.
Citrus
2014 - the first few Dweet tangelo fruit are acceptably ripe. For some reason the kakas and possums haven't touched these -yet. They have destroyed everything else bar a few miserable oranges on our weak little trees.

july 1st
Weather

2013 - A calm, sunny, blue-sky day. Over the last 7 days the weather has been cold, overcast, and rainy. The night-time low temperature was 4oC. Better than many places in Auckland which had frost. The maximum daytime temperature over this period was a meagre 15oC.
Kiwifruit
2012 - While the waxeyes have done very little damage to the kiwifruit, the yellow (
Actinidia chinnensis
) and the green (
Actinidia deliciosa
) 'Skelton' have fairly yellowish leaves now, and the fruit are not likely to become sweeter. The 'Hayward'
A. deliciosa
still has lots of green in the leaves, and the fruit could be left on the vine longer, but I'm not willing to risk it.
Avocado
2012 - The last 'Helen' avocado fruit has fallen, and the varmints got to it before I did. At least they left me the seed.....
2013 - The Hass fruit on one tree have sized up so well that it might be worth picking one to see how it ripens up. Most of the recently planted trees are flushing, a bit uprising considering the low temperatures.
Sheep.
2013 - the wet and cold has all but stopped grass growth. The bare pastures hit hard in the drought are pretty much flatweed and
Acaena
ridden wastelands. Time to get out the glyphosate and prepare the ground for resowing. I might see if I can get away with a winter sow, so there is a little there in time for new season lambs.
July 2nd

Weather
2016 - A good ground frost last night. Not an air frost. The last air frost we had was 1997. It burnt the leaves of the tamarillos. But a good ground frost here means it must have been a beaut on the lower areas (in fact it was an air frost of -2oC ).
July 3rd
Weather
2016 - Another cracker ground frost. Another beautiful clear, calm, sunny day. It clouded up towards the late afternoon, so no frost tomorrow.
Nature
2016 - A yellowhammer is on the patch. I haven't seen one of those for a while. Attractive birds. The annual grass,
Poa annua
, is seeding, as it always does over winter. It is possibly one of the attractions of the place, as finch food. Waxeyes are hammering the gold kiwifruit, although they are yet to touch the Haywards. These small birds need a lot of food to 'burn' over the cold nights, or they lose too much heat and wake up dead. Kiwifruit are full of sugars, so they are ideal for these frosty days.
July 4th
Weather
2016 - warm day, sunny, calm, cloud here and there. Much cloudier in the afternoon. A warm evening, relatively speaking.
Pests
2016 - lots of male possums on the place. We have caught 3 in the Timms traps in the last week or so, and I know there are others around. Our very nice navel orange has been heavily attacked by at least 2 possums. We got one, but there is at least one other still attacking the fruit.
kiwifruit.
2012 - We put a few fruit of the various kiwifruit into a bag with an apple on July 1st to see which kind would ripen first. Skelton is ripe today, but not the others as yet. Skelton can be picked in the 3rd week of march, about a month earlier than Hayward's earliest 'possible' picking date here. That said, both fruit are only 'acceptable' in my mind. They lack flavor, and are only 'adequately sweet'. Nothing flash, in other words.
But the late harvest Skelton I tried was very nicely sweet and had good flavor. Very pleasant.
Avocado
2016 - the Carmen Hass trees have a few newly set fruit between pea and marble size. The trres still have flower buds, but the weather doesn't seem to suit them, and they seem reluctant to come out of the bud. The 2 frosty days might have made them think twice about opening. I found 2 Reed avocado fruit tucked away on our rather tiny Reed tree - and 3 seeds on the ground where varmints had polished off some fruit. It's pretty good to still be picking Reed in early July. They are rich and oily, quite outstanding.

Persimmon
2014 - The resident fruitologist, on a whim, picked up a fallen fruit of the ornamental persimmon trees lining the drive. These fruit never become deep orange. They become a half colored wishy-washy yellow orange at best. In fairness, this is partly because birds - including tuis - get into them before they are fully ripe. The fruit are an astringent type which have to be left to become soft (squishy) ripe before the tannin levels fall enough to be edible. She left it on the bench until it was a wrinkled orange-brown scrotal blob. I thought she was mad when she said she was going to try it. I thought she was luring me into an astringency trap when she said it was very nice, and had no astringency. But she wasn't having me on. It was sweet, but not sickly sweet, with a soft, even, pasty flesh texture. The flesh was a rich darkish orange. I remember thinking "there'll be lotsa caretonids in this one".
July 6
Weather
2014 - Mild, some sun, cloudy. The high was 17oC, not bad. The lowest temperature over the last week was 6oC. We have had some good rainy days, and collected another 50mm of rain. The ground is very wet.
Macadamia
2014 - the Nelmak macadamias are full-on ripe, split, and falling.
Avocado
2014 - a little Carmen Hass that was eaten by lambs last year is now flowering. It is a weak, somewhat unhappy little tree, and probably a month behind the other Carmen Hass trees in flowering.
July 7th
2012 - It is time to prune or cut out trees, 'rationalise' the place, and think about trying new varieties. And cut and split firewood.
2014 - The morning was constantly breezy - quite a strong breeze - but it was from the east, and almost warm. The high was 16oC. The skies are totally overcast. By afternoon the wind had picked up, and became a rather strong gusty easterly with a little drizzle embedded in it.

Weather
2012 - Sunny, hot, a gentle breeze blowing. Blue skies. Most un-winter - like. (As was the recent wet northeasterly weather we had.)
The first 'Hayward' green kiwifruit is ripe enough to eat. I was expected outstanding results, but it was just pleasant, moderately sweet, good flavor, but not outstanding. I was disappointed. Checking the Skelton again, it was pretty much a less acid version of Hayward. A 'Sally' (yellow) fruit I picked a few weeks ago had no acidity, 'melony' flavor, finer flesh, and good (but not outstanding) sweetness. Personally, I prefer it over the others.
Tamarillo
2012 - Not much fruit is left on the place, although the tamarillos are now in full swing.

Avocado
2012 - We picked the last fruit from our biggest Hass avocado tree (rats had picked several others).
Macadamia
2012 - The Macadamia nuts are also dropping.
Lucuma
2014 -some of the 'seda' (sweet) lucuma fruit are ripe on our only seda-type seedling. We know this because varmints are eating them. One fruit on the tree is nothing but a hollow shell. Several fruit have a faint change of the deep green ground color to the suggestion of dull yellow.
July 6
Weather
2014 - Mild, some sun, cloudy. The high was 17oC, not bad. The lowest temperature over the last week was 6oC. We have had some good rainy days, and collected another 50mm of rain. The ground is very wet.
Macadamia
2014 - the Nelmak macadamias are full-on ripe, split, and falling.
Avocado
2014 - a little Carmen Hass that was eaten by lambs last year is now flowering. It is a weak, somewhat unhappy little tree, and probably a month behind the other Carmen Hass trees in flowering.
July 7
Weather
2014 - The morning was constantly breezy - quite a strong breeze - but it was from the east, and almost warm. The high was 16oC. The skies are totally overcast. By afternoon the wind had picked up, and became a rather strong gusty easterly with a little drizzle embedded in it.
Lucuma
2014 -some of the 'seda' (sweet) lucuma fruit are ripe on our only seda-type seedling. We know this because varmits are eating them. One fruit on the tree is nothing but a hollow shell. Several fruit have a faint change of the deep green ground color to the suggestion of dull yellow.
July 8
Weather
2014 - The strong gusty easterly winds blew all night long. The morning dawned completely cloudy over. It is relatively mild.

Pecan
2014 - most are now almost bare. Grabohls is totally yellow, and leaves are falling.
Kiwifruit
2014 - birds continue to feast on the undersized kiwifruit. Only Sally, Hayward, and a species kiwifruit are fairly green still. The rest are yellow, a bit tatty, and leaves are falling.
July 9th
Weather
2014 - the easterly really picked up yesterday afternoon, and became a howling easterly gale. It howled all night long, and is still very strong and gusty this morning. It is totally overcast, but relatively mild in spite of the wind. The daytime high was 14oC. According to news reports the wind gusts reached 120 kilometres an hour at times. Incredibly, only some of the avocados and the odd tamarillo seedling has been affected.

Avocado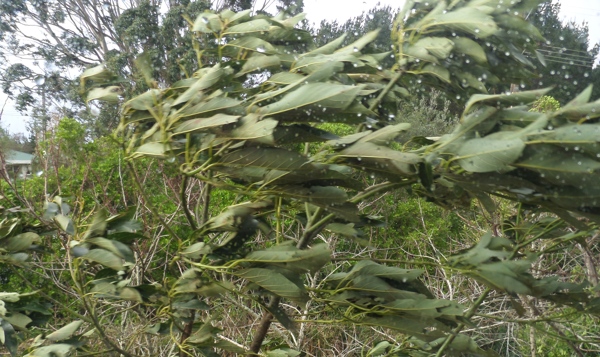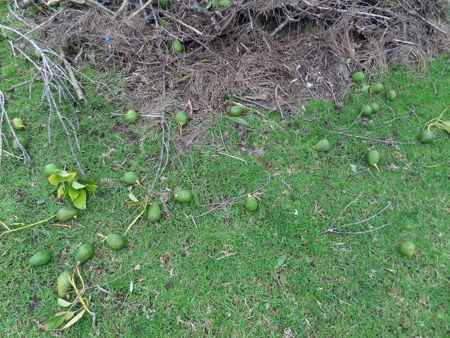 2014 - this morning we ventured out into the blustering wind to see how many new season avocado had blown off - so far. The grass under the northwest and west of the most productive of our two largest avocado trees was carpeted with unripe young avocados. We picked up fruit, some pretty much full size, some quite small. Many will ripen if we put them in a bag with an apple, but all but the very largest will be inferior, and only useful for guacamole. A quick count established that only about 35 fruit remain on the tree (and the wind is still blowing). So we lost nearly 80% of the crop. A report on the radio says that in Northland,some growers have lost 40% of their crop. Pretty hard to see 40% of a whole years income get flushed down the toilet in just a couple of days.
The other big tree, much less exposed, lost only 1 fruit! The Pinkerton trees, only about 2 meters tall at best, lost no fruit. A very tall spindly seedling tree that has been growing for many years (and flowering) without bearing anything, now at last has a modest crop. Not only did we lose around 12 fruit, but several branches blew off. All this reinforces my strengthening belief that the home gardener needs a small non-spreading avocado tree. I noticed a seedling avocado tree with short internodes, suggesting it might grow as a small tree. I planted it out, and a couple of years growth suggest it is a fairly compact narrow tree, and if it fruits (big 'if'), and if the fruit are acceptable (another big 'if'), and if it fruits reliably (even bigger 'if), then it might be useful. The gale has flattened it, the only one to be be decked of 6 or 7 seedlings of the same age nearby. I thought it must have useless roots that don't give enough anchorage, but a closer examination showed the tap root had done a sideways bend in the original pot, so it had no anchorage directly under the trunk. I stood it up, and tied it to a stake and now hope for the best.
Cherimoya
2014 - not ripe yet, but this year have seen a very good fruit set. The gale has torn dozens of immature fruit off the tree.

Lemons and Limes
2014 - lots of lemons have been blown off, and most of the precious few limes on the poor old citrus-tree-borer-ravaged lime tree.
July 10th
Weather
2013 - the last few days have been sunny, clear, and calm, but today, while there was lots of sun, it was cool (12oC at midday) and somewhat windy. There have been several very mild days and nights in the last 9 days, and the temperature reached 18oC. The overnight low for the 9 day period was 3oC.
2014 - the gale force wind has been unrelenting.

Nature
2014 - I saw four California quail yesterday. I hope they breed ere again this year.
Avocado
2014 - Another 9 fruit blew off the most fruitiferous Hass tree. Only about 25 or so are left on tree tree
Feijoas
2013 - time to prune some of the trees. They form new shoots from cut back branches really well, so I have no hesitation in cutting them back hard.
Avocado
2013 - our newly planted little Carmen Hass is still dribbling out flowers, but the only insects on the flowers are ants. Many of the small new trees have a little flush going, albeit not very strongly. It seems a little early to be starting into growth, but there you are. Woody plum prunings have been chipped and added to the layer of mulch under the young trees. An eye has to be kept out for snails, as they do eat avocado leaves, especially young leaves. The damage on larger trees is insignificant, but there is a least one autumn graft that is still not much more than a few small tender leaves and a terminal bud.Great snail food.
Lucuma
2013 - Fruit continue to drop, and there are many flower buds ready to open. The sheep eat the fruit, and there are a useful number on some of the healthier trees. The pasture has been hammered, so the fruit is a useful adjunct.
July 11th
Weather
2014 - the wind lost some of its punch today, but there were still some very strong gusts. We lost another 4 or 5 avocado fruit from the trees.

July 12th
Weather
2014 - It rained heavily in the night. But today dawned fine. We haven't seen the sun for so long that we felt like we should celebrate when the blue sky appeared. I checked the rain gauge, thinking we would probably have got another 50mm or so since I last checked on the 6th. In fact we had 70mm, quite a bit more than I expected. The ground, unsurprisingly, is very wet. However, temperatures are warm and pleasant, so it will dry out quickly. The coldest night has never fallen below 10oC over the last 2 days, and the days high has been 17oC.
July 14th
Weather
2014 - the day dawned still, sunny and cool. There was just the hint of a ground frost on one part of the property. The easterly weather has gone, and we are under the influence of a southerly air flow. The forecast is for fine, but increasingly colder weather for the next 3 days.
Nature
2014 - I discovered a
Cupressus sempervirens
tree has had patches of bark ripped off high up the tree, exposing the sapwood. Pieces of torn off bark litter the ground. The tree is 30 metres or so from the native forest, and the damage is consistent with the damage recorded in Wellington Botanical Gardens by the kaka being bred and released from a nearby in-city sanctuary. My main concern is that this tree is immediately adjacent to four trees of the extremely rare pine nut

Small Block Chores
2012 - Time to drop one of the nearly 30 year old Italian alder (
Alnus cordata
) shelter belts. The trees are casting too much shade on the kiwifruit, and I figure if I drop them I can probably fit in another half a dozen avocado trees. There are a few varieties I would like to try out here.
I have no head for heights, and luckily discovered that instead of having to dismember them piece by piece from the top down, as was originally planned, I could drop them very precisely by tying very long ropes at about 6 metres up, and applying 'whanau power' to direct the fall.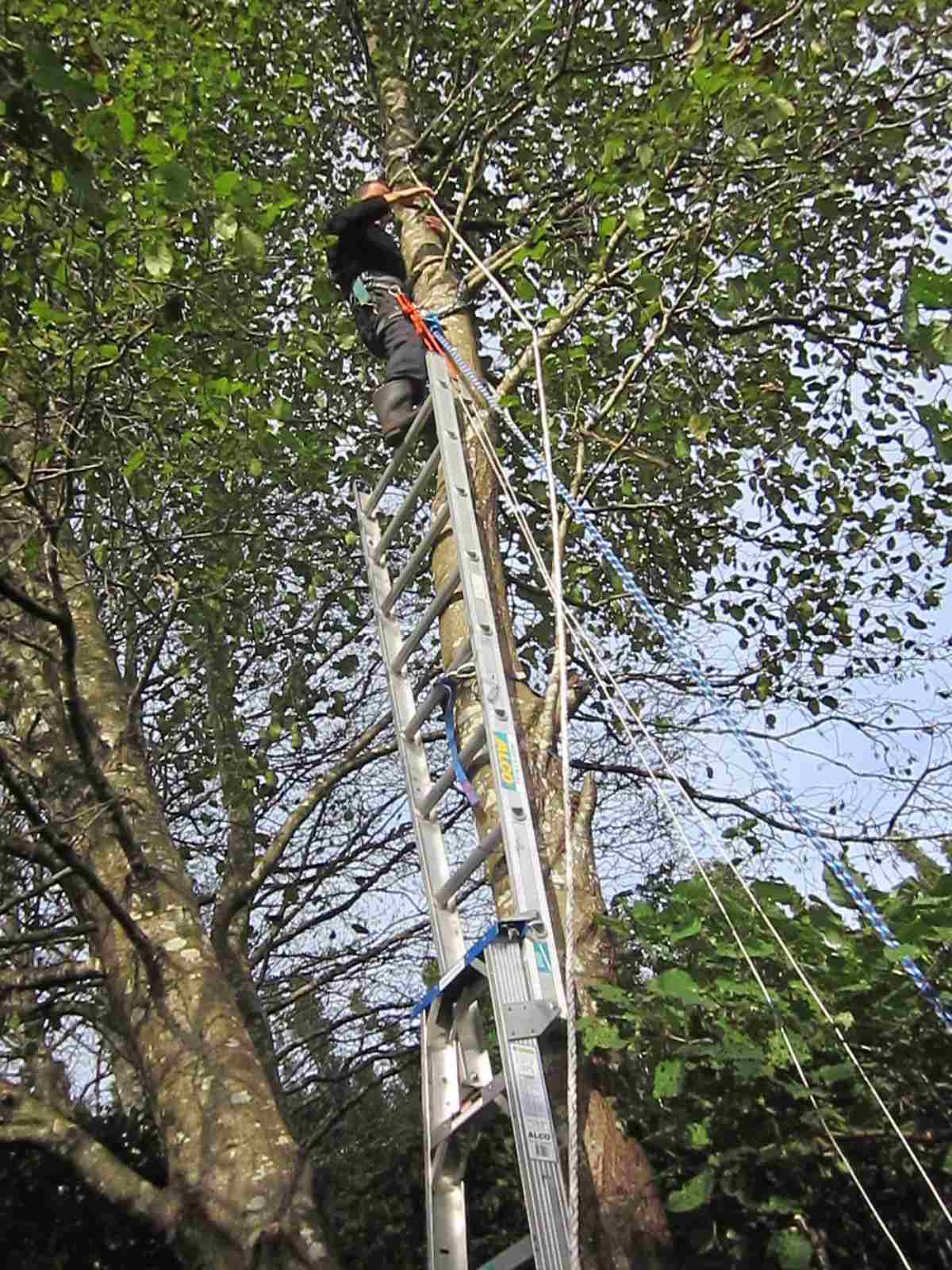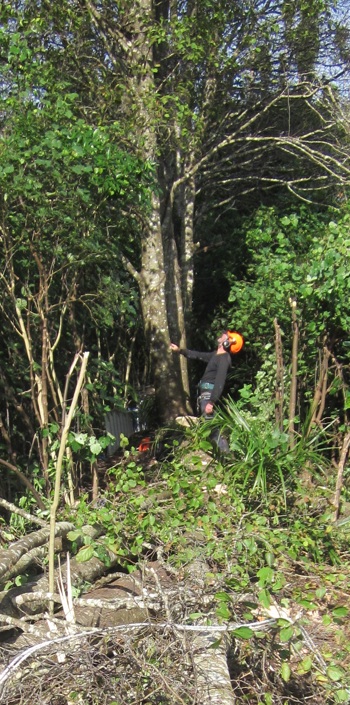 Attaching ropes
Checking lean to select the best place to make the cut
July 15
Weather
2015 - blustery easterlies blow, picking up from yesterdays developing easterly wind. It is overcast, with showers and a little rain. Both yesterday and today are mild relative to the 3 days before (11th to 12th) which were icy cold, with frost, particularly heavy on the 12th.
July 17
Weather
2015 - today and yesterday were absurdly warm - hot, even. It has been calm and clear and very pleasant. The last few nights have also been mild.
Hazels
2015 - the female hazels flowers are open. Only a few trees have catkins open and shedding, so, as usual, set will be poor. Hopefully it will be better than last year.
Pecans
2015 - all the trees have dropped their leaves, so we cut them back extremely heavily. They were too tall to easily harvest the nuts in the top third, and either possums or kaka get them anyway. Maybe, in time, they can be trained and pruned so that it is feasible to net good areas of the trees.
Avocado
2015 - the very last Reed fruit was harvested today. We also picked a few of the biggest and 'dullest' looking Pinkerton fruit, so that should see us through until the Hass season begins.
July 18
Weather
2015 - this morning a front moved across the upper north island from the northwest, bringing heavy rain and some short bursts of very strong northwest winds. It is cool, but not really cold. The sun came out briefly at midday before disappearing behind a sullen gray sky for the rest of the day.


July 20
Weather
2013 - lovely sunny day, and while the suns radiant heat makes it feel hot, the air temperature is only 15oC. The alder trees are totally bare of leaves, in contrast to this time last year (as the above photos show).
2014 - the day started bleak and cold, but soon the sun came out, and apart from some fast-moving cloud, it was fine until late afternoon. The last week has had the odd bitterly cold day, with heavy frost in the valley, but the coldest air temperature recorded for the period here was 4oC, which is pretty good. The warmest air temperature over the last week was only 14oC.
Livestock
2013 - 2 ewes have given birth, probably a day or two ago. This is earliest we have ever had lambs on the ground. Grass growth is better than it has been, but it is still pretty sparse. We feed out bamboo, coprosma and mahoe every day.
July 21
Weather
2014 - We had a lot of rain and wind last night, as an Antarctic southwest airstream moved up the country. The morning dawned sunny and quite mild. It clouded over about 1300 hours, and we had some good but brief rain and heavy shower dumps. A light to moderate gusty west-southwest airstream blew.
Livestock
2014 - the first lambs (twins) dropped last night, presumably in the foul weather. Typical. They are fine, and look like they might both be girls. Feed is very short, and I cut bamboo to supplement them. The fine spell for the first half of the day will be very helpful in getting a bit of growth into the paddocks.
Citrus
2014 - Our dweet tangelos have been suddenly 'set upon' by possums. We were alerted to this fact by a tui noisily feeding on the half eaten fruit dangling on the tree. We rescued about a quarter of a supermarket bag of undamaged fruit. Possums have an unerring sense of what the ripest fruit is, so we have pretty much been left with semi-mature and not quite mature fruit.
Lucuma
2014 - the single 'seda' lucuma continues to either drop fruit or have fruit dropped by possums. The half eaten fruit have bright orange flesh - they look good. Fruit with even the suggestion of color change picked about a week ago (a 'pre-emptive strike') have either fermented or turned khaki brown. The 'good' fruit that are khaki brown have deep yellow flesh, dryish to the taste, very sweet, and very butterscotch flavored. The single or double seeds inside take up most of the volume of the fruit, so there is relatively little flesh. I wonder, if the fruit was left by the varmints to fully mature on the tree, would the skin turn more yellow? Would it be softer, less dry? I will have ago at propagating this tree and see if I can grow a small tree away from sheep and varmit predation. That way I might be able to see a truly 'tree ripened' fruit for once.
Cherimoya
2014 - quite inferior fruit of a so-called 'high altitude' cherimoya I grew from seed many many decades ago has a ring of small self-sown seedlings around it. One seedling has some ripe fruit right now, which is very early for cherimoya. The main cherimoya season is about october. The fruit are OK, not 'the best', but pleasant enough, if unremarkable. On the downside, they are, however, chock full of seeds.
Avocado
2014 - the possums are hammering the fruit of a very nice seedling tree. I have two Timms traps under it, freshly baited, but no luck in catching it. I hope Kaka are not responsible. Were that the case, avocado trees would have to be grown under nets, which means they would have to be dwarf varieties, which pretty much don't exist in New Zealand. However, the high energy winds we are experiencing may drive a move to low-pruned trees with short internodes. We'll see.
July 22
Weather
2014 - icy cold, overcast, rainy, the odd break in the clouds with a little brief sun. No wind. Wet and slushy under foot. Winter.
July 25
Weather
2013 - A mix of warmth, sun, cloud, sudden heavy showers. The wind is westerly, with a touch of southerly in it. It is relatively mild. A large gum tree across the road has become an early morning marshalling point for the kakas that live in the native forest here. Their harsh squawks and brief melodious whistling wake the whanau up early - too early, before the sun has even peeked above the horizon. So much for the peaceful countryside.
July 28
Weather
2014 - it was very cold last night. A light frost coated some areas. The temperature in the night was 3oC, which is pretty cold for an air temperature. The day, however, was sunny and fine, and dead calm.
Livestock
2014 - Another ewe has had twins. Grass is pretty sparse. The ram is a real guts, and we have a small ram lamb from last year. Two rams is one too many, so I killed the big guy to reduce the competition for what grass there is. He turned out to have some pretty ample fat stores, so he has been getting his share and more. The expected warmer temperatures and rain, plus the fertility from the very large numbers of worms should, together, result in a kick start to grass growth. The ewes are very hungry at this time, and having twins to feed doesn't help.
Avocado
2014 - the windfall Hass fruit are all ripening at the same time, and we are distributing them to whanau and beyond. I continue to be very impressed by the Pinkerton fruit. I picked a few good sized fruit, not necessarily the biggest, and even without the help of an apple or banana to trigger ripening, the first of them was soft today. The fruit were picked 2 weeks ago, and left inside in a cool place. When cut, the surface had the slight moisture film that indicates immaturity. It had quite a wide band of bright green just under the the skin, also a marker of immaturity. But the taste was very good. Admittedly, there wasn't a lot of flavor. but it was oily, soft, smooth, and very good. It had the merest suggestion of wateriness. The after taste was oily and pleasing.
July 29
Weather
2014 - The night was cold, dropping to 3oC again, but it didn't feel as cold as last night. The day dawned a little misty, some watery sun came out, with light cloud. It was calm, but remained cool until the afternoon. The air temperature rose as a northery flow reached us, and it was quite mild, if overcast.
The overnight temperatures are forecast to be around 8-10oC over the next four days. Daytime temperatures are predicted to be in the region of 16oC to 18oC, which is pretty good for this time of year. The highest daytime temperature over the last 7 days has been only 16oC. We have had quite a bit of rain over the last 2 and a bit weeks, 35mm in all. The ground has been very boggy, but at last it is starting to dry out.
Kiwifruit
2014 - all vines are now dormant, except that Hayward still has leaves, albeit they are pretty scungy.
July 31
Weather
2014 - Yesterday was overcast in the morning, but sunny and warm in the afternoon. The days high was 19oC,which seems pretty good for the time of year. Auckland had a high of 19.2oC, which was apparently the highest july temperature on record! Today dawned totally overcast, but it was mild. A light breeze blew from time to time. The afternoon was sunny and very pleasantly warm. A few tiny clouds drifted across the blue sky. A perfect day.
August 01
Weather
2015 - Apart from some brief showers, a warm sunny day. It is like spring. In fact, while the last 2 weeks have had the odd very cold night, and we have had plentiful light rain, it has been astonishingly mild. In fact, it is the mildest july I can remember. Much of the weather has been from the north or northwest, sometimes the east. When it did turn to the south, it didn't have too much bite in it.
Nature
2015 - the Californian quail seems at home here. There are about 10 of them still. I hope they nest here again, and there are plenty of piles of tree branches for them to hide under. We aim for a big pruning session before the end of the year, so there will probably be more little piles of branches for them.

Hazels
2015 - Those that do flower are in flower now. Some have no flowers at all. Some have a few male catkins and no females, others have good numbers of catkins and a few females, the odd one has a fair number of male catkins and female flowers. Generally, all the catkins are shedding pollen now, and females are open. Almost all the trees are unproductive, but several seedling trees, and Lansing and Campanica look promising. Other more recently planted varieties have been rather dramatically 'sheeped'.
Avocado
2015 - The few Fuerte fruit have been picked. They were a tad watery, but they were OK. August is a better month for Fuerte. We have started size-picking the Pinkertons, but they take a while to ripen at this time of year. One fruit is big - 386 grams - but about 280 grams or so is more typical. Supermarket Hass at this time of year are around 240 grams.
All the younger trees have plenty of flower buds obvious, so it should be a good flowering this spring. Carmen Hass continues to flower and set fruit. There are few insects around, and I have seen none on the flowers, not that I have observed them for any great length of time. The Pinkerton trees currently with a crop don't have flowers visible. Either they are going to flower late, or they are going to have a year 'off'.
August 03
Weather
2013 - Yesterday was extremely windy, with periods of near horizontal light drizzly rain. It was not particularly cold, as the weather for the last few days has been from a subtropical low, bringing strong easterlies, turning to the south as the system passed over. The coldest it has been at night since july 20th is 6oC. The hottest it has been is 17oC.
Livestock
2013 - 2 more ewes have given birth, probably several days ago. Twins. Another ewe is very due. We are undergoing a 'lamb storm', and feed is short. Looks like I will have to buy sheep pellets, as well as feed out browse.
Avocados
2013 - the flower buds on the best Hass trees are now starting the early phase of panicle expansion. There were 6 unripe Hass fruit on the ground, blown off by the wind. None of them are big enough to pick as early season fruit. We put them in a plastic bag with an apple to see if they ripen. Some are far too small to mature, but I'm curious to see if they ripen at all (even if they do, I predict they will be rubbish).
Bananas
2013 - A blue java stem with a developing bunch has blown over. This cultivar carries stems at more of an angle than most, so I suppose it should be propped up as a matter of course. So far it has set poorly, and I'm not impressed.
Oranges
2013 - we have a small, scrappy looking navel orange tree, and the fruit are falling now. They are small and really scurfy looking. They are also excellent - very sweet, little acidity, flavorsome and delightful.
August 04
Weather
2013 - overcast, warm, totally still. Odd.
Kiwifruit
2013 - Today I threw out heaps of yellow kiwifruit that had started to rot in storage. Only a dozen or so fruit are left. It would really be useful to have a variety that wasn't so prone to botrytis fungus infection. Or I could do what the commercial growers do - use fungicide sprays. But who could be bothered? We still get plenty. And right now you can buy 'out of grade' yellow kiwifruit at the supermarket for only a couple of dollars a kilo. That's giveaway prices. Suits me.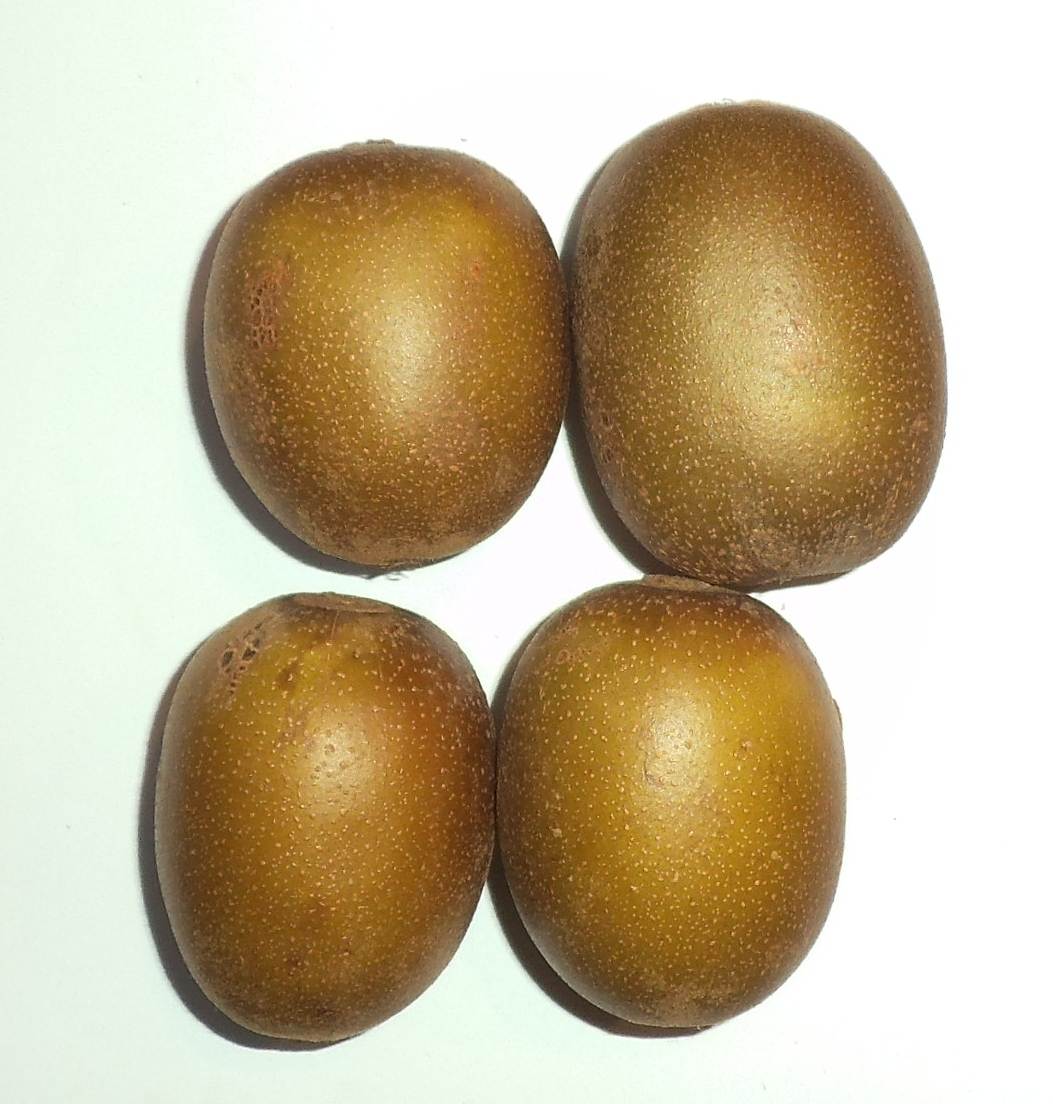 These are the new 'gold 3', or 'G3' variety (photo on the left), which is a new yellow flesh variety (its
real
variety name is 'zesy002'). They look a bit like the green, in that they have no 'beak', and are more round in cross section and long. They are simply labelled as 'gold kiwifruit', along with the traditional 'beaked' variety we know so well (its variety name is Hort16A). I was surprised there was no promotion or information on the new variety, and in fact, when I first saw them, I assumed they were mis-labelled greens (Hayward variety). Apparently they made up 20% of the 2013 'gold' crop.
My experience of first time tasting was that a good one is intensely sweet and also quite acid. There is little of the melony tone so marked in Hort16A. They are a quite different fruit, in the same way a Granny Smith apple is different to a Gala. I really like them. The only drawback is that slightly immature fruit are simply acid, with little sweetness, and are quite disappointing. The orchardist will have to be very careful not to pick too early, or they will turn people off from what is actually an outstanding variety.
When Hort16A was first 'consumer test' released on the domestic market in 1998 I was so taken with the taste that I sowed a few seeds straight away. One of the 3 resulting seedlings was female and had an OK fruit (from the home garden perspective), and this is the yellow kiwi our family eat today. Far inferior to its 'mother', Hort16A, but sweet and pleasant enough. Following this great tradition, I have sown a few seeds from this new gold kiwi. If the seed germinates (Hort16A seeds germinate easily, but because G3 is tetraploid, with 4 sets of chromosomes instead of the 'normal' 2 sets, the seeds in it will possibly be triploid, an uneven number and therefore probably sterile) a first fruit will appear in 8 to 10 years time. A few years earlier if I was very lucky. For some reason males start flowering a lot earlier, sometimes 5 years from sowing. However, there are likely to be either very few, or no, 'good' seeds in the fruit due to the odd chromosome number.



August 05
Weather
2013 - sunny with some transient cloudiness. Warm. Overnight low was 10oC. Yesterdays daytime high was 20oC. The odd daisy is flowering, always a sign of warmer temperatures. Worm casts are everywhere, and their nutrient-releasing activity, linked to lack of cold rain and good daytime temperatures, are perfect for soil microbial activity. Usually this causes an initial dip in nitrogen availability, with a stall in growth, but then nutrients recycle and growth really takes off. Unless we are hit by cold southerly conditions.
2014 - sun, showers, cloud, sun, wind, showers etc. Spring weather. The highest temperature recorded since the start of the month was a very nice 26oC. The overnight lowest was 6oC.
2017 - sunny and still yesterday, cold overnight, today is a bit cloudy, a bit sunny.
Apricots
2013 - the Santa Rosa has a rogue flower bud showing pink. The only one on the property.
Almond
2013 - one tree, name long forgotten but supposedly self-fertile, has quite a number of flowers. It never sets anything.
Macadamia
2013 - heaps have dropped from the 3 main trees, and a whanau member spent some time picking them up. She stopped at a supermarket bag full because her back was sore from bending over picking them up. She reports there is nearly another bag full still on the ground. And still heaps on the trees.
Avocado
2013 - we experimentally picked a good sized green new season Hass avocado on the 27th of july and put it in a bag with an apple to ripen. It was perfectly ripe today. The flesh was a little light coloured, the taste acceptable but lacking oiliness, there was no sweetness (characteristic of immature avocados), no moisture beading when cut, and overall 'good enough'.
2017 - we are picking the round-shaped autumn set Carmen Hass as they go dull. We have to, as a possum is eating them before us. 3 traps are set by Carmen, and a bait station. The culprit eats some bait, but ignores the traps. Damage goes on...The late winter Carmen fruit are fully flavored, with a very good oil content. Apart from a fully mature Fuerte - impossible to beat - the Carmen Hass are outstanding at this time of year. Pity they have relatively few winter fruit.
August 6
Weather
2014 - sun and the odd showers, windy, but warm when the clouds aren't obscuring the sun and out of the wind. By afternoon the temperature was falling.

Nature
2014 - the radiata pines across the road are now shedding their sulfur colored pollen. It forms a 'strand line' around the rainwater sitting in the wheelbarrow. Freesias and miniature daffodils are flowering. Bluebells will be a while yet. Sparrows carry nest materials in their beaks. Yep. Seems like spring.
Livestock
2014 - 7 lambs from 5 ewes, possibly another 2 to lamb. The grass is 'down to the deck', but some areas will come away nicely with some sustained sunlight. We are feeding sheet pellets and bamboo, and so are 'getting by'.
Macadamias
2014 - there are heaps of macadamias on the ground, their green husks nicely split - mostly Nelmak. I keep thinking "I must pick up the macs". And forgetting. Too long on the ground and they become too moist, with the danger of becoming mouldy, or germinating.
August 10
Weather
2013 - overcast and cool, a few brief splots of rain this morning. The overnight low over the last 5 days was 9oC,and the highest was 20oC. At midday it was only 14oC, but there is very little wind, so its not particularly cold.
August 11
Weather
2013 - lots of rain overnight, it dawned overcast, the odd patch of sun, some showery rain,16oC by midday, then the wind came up and temperatures dropped, but still not hugely cold.
Avocado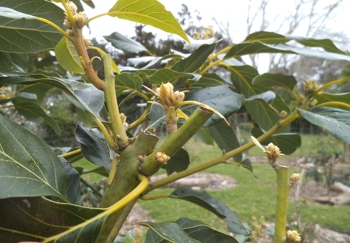 2013 - flower buds are swelling and panicles developing everywhere. "Carmen Hass' continues to flower. There are no insects on the flowers beyond ants - not surprising at this time of year - but elsewhere on the property I noticed several hoverflies for the first time. The first harbingers of spring, perhaps?
I have allowed a 'Dusa' rootstock to grow past the graft, as Dusa is a Fuerte seedling and is said to have quite good winter fruit. It is very vigorous, and I have cut new growth off relentlessly. I have finally outlasted it, and it has stopped trying to add flushes, and now, gratifyingly, has changed from vegetative buds and growth to flower buds.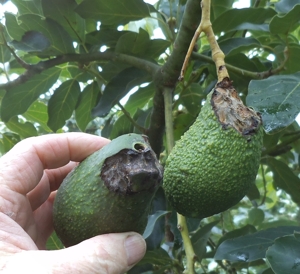 I was a little slack in my rodent poisoning beat some weeks ago, and have paid the price. Rats gnawed on the stem end of these 2 young Pinkerton fruit. I diverted the rats away from the fruit with some delicious poison bait at the base of the tree, and while there has been no further damage, and the chewed flesh has healed, the stem attachment has been weakened - one fruit has fallen, and I don't expect the other to hold.
A pity, as there were only a few fruit on this small row of trees, and every one of them has disappeared without trace barring these last two - I assume rats are the culprits. There is now the aroma of dead rat in several places in the adjacent bamboo shelterbelt. Better late than never, I suppose.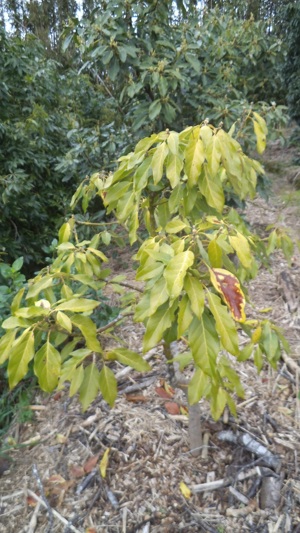 Our small 'Gwen' avocado tree has struggled with phytopthora since day 1. It has turned quite yellow over winter, in spite of a timely fertiliser application. It is now dropping its leaves, which I hope is a prelude to bursting into new growth, rather than the first sign of terminal decline...I will sprinkle some gypsum (calcium sulfate) under all the somewhat 'dodgy' looking avocado trees next week. Gypsum doesn't affect the pH of the soil, but does supply calcium. There is some evidence that calcium in the soil inhibits phytopthora.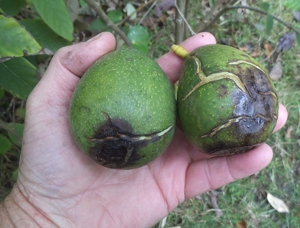 A very vigorous seedling avocado tree has flowered for some years, but never set fruit - until now. They are only few in number, but the small fruit are quite good. I suspect it is a seedling of either Fuerte or Zutano. Trouble is, they are so thin-skinned that they split and are affected by rot (possibly
Glomerella
fungus). Hass can be size picked in early august and will be ripe about the same time as these. These fruit are better tasting, but not by a huge amount. Even if the tree bore a heavier crop than this sparse offering, it's not much of an advance on early-picked Hass from the home garden point of view. From the commercial point of view it is simply a non-starter, of course.





Almond
2013 - The old trees have suddenly burst into a mass of blossom. One tree has lost a major branch. Not surprising given they are 25 or so years old.
August 12
Weather
2013 - Strong cold winds from the west. Squally rain. The ground is boggy. A little patchy sun in the late afternoon, but still windy. The high today was 14oC.
August 13
Weather
2013 - The coldest temperature over the last few days and nights was 9oC. At 1030 am it was already 16oC, and by midday 17oC. The first half of the day was mostly sunny and warm, with some passing cloud cover. It was mostly breezy, but with calm periods. There are lots of spring flowering shrubs in full bloom at the moment, and the bees are out in force. There are worm casts everywhere, and the alder shelterbelts are dropping pollen-filled catkins. These will soon be dragged under the ground by the worms. Spring was definitely here this morning. But it would be foolish to expect the warmth to last at this changeable time of year...By afternoon it was overcast, cool and windy, with the odd skittering shower.
2014 - The coldest temperature over the last few days and nights was 5oC, the warmest 16oc. Mixed bursts of spotty rain, then sun. It felt warm in the sun, but by afternoon the wind had an icy edge to it. The alders have littered the ground
Livestock
2013 - the last 2 ewes to lamb have had singletons, which is a relief. There are 7 lambs, from those literally 'born yesterday' to one month old already. We are feeding sheep nuts as a supplement, and continue to cut browse. All the sheep are very keen on freshly cut feijoa, which surprises me a bit - the leaves are pretty tough and coarse. It is now clear that the grass is at least keeping up with the sheep, albeit it is pretty short. I try not to hammer the best areas too hard, on the basis that 'grass grows grass' as the old farmers saying goes. In fact I put some urea on the very best areas the other day, to promote growth in the most productive areas. Today, they are lounging in the sun, and ignore me as I walk past, whereas before they would be on their feet and following - in the hope I had come to cut then some browse.
2014 - the grass is pretty skinned, and we are feeding sheep pellets, coprosma, mahoe, and that great standby, bamboo. I am very pleased that lambing has finished - no more extra mouths to feed. But with 9 lambs this year we'll be feeding supplements for a while.
Macadamia
2013 - we finally made time to go and pick up the rest of the macadamia crop. The last couple of trees in the row have always been the most productive, and it is their crop that has 'hit the deck'. We filled 2 supermarket bags with fallen nuts in the green husk. There are still some more on the trees. The husks have all split open very well, and it is easy to remove the hard brown nut within. We ended up with about 9 litres of nuts in shell.
The trees themselves are just starting into new growth. There are some new flower racemes expanding, but they are some time off being big enough to flower.
Pine nut
2013 - The Mediterranean stone pine,
Pinus pinea
, now has long terminal buds at the top of the tree. I can't see any female cone buds at this stage, so it's not looking good. The single cone on the tree is deep mahogany brown. It will be pickable this summer. The male flowering structures arise on the small terminal buds on lower branches. The terminal buds look like they are at an early stage of organising themselves into male 'flowers', but they are not there yet. In contrast, the radiata pine trees in the adjacent forest have fully developed and mature male pollen shedding structures (strobuli) are pumping out masses of sulfur yellow pollen.
Almond
2014 - the old trees are in bloom. These are the first of the
Prunus
to flower, and a reminder that spring is not far away.
Kiwifruit
2014 - all plants are now totally dormant, but the buds won't be long in swelling for the new seasons growth.
Cherimoya
2014 - possums have seriously damaged many of the largest fruit at the bottom of the property.

August 14th
Weather
2012 - July and the first part of august have had some cold nights and cold days, but it has been unusually warm overall. Warm north-easterlies have dominated late july and early august. The last few weeks have been dominated by rain, rain, rain, and more rain.
Tamarillo
2012 - The tamarillo fruit are now all but over.
Kiwifruit
2012 - We still have some kiwifruit stored in a cool place, and it is interesting that our yellow 'Sally' is far more subject to storage rot than the greens. The fruit are sound when picked, but slowly develop the rot in storage. We have thrown out a lot of 'Sallys' that are puffed up with Botrytis rot. We could spray the flowers with a fungicide to prevent botrytis infecting the developing fruit, but I generally don't.use sprays here. It's a 'large' home garden, after all, and it doesn't really matter that much if we lose a part of the crop to rots.
The yellow kiwifruit are growing very close to a 12 metre high alder shelterbelt, and an understorey of native seedlings (particularly kawakawa) under the alders has pushed to within a metre of the row. The natives form an evergreen shelter over 2 metres high. Or they did.
I have now dropped the alders and cut out the understorey, so a lot more light and air movement is getting to the kiwifruit. This may reduce the incidence of botrytis infection in the fruit.
An interesting side note to storing kiwifruit is that all the fruit have 'picked up' in sweetness during storage. Some of the greens are just delightful, and the odd Sally is also very impressive in sweetness and to a lesser extent flavor.
The kiwifruit are still mostly dormant.
Plums
2012 - The earliest stone-fruit to flower here (apart from a couple of old almond trees in solid full-on bloom) is the Pixie plum. Our original cutting-grown tree is in full bloom, whereas Pixie grafted onto St.Julian plum rootstock has only a few flowers open.
Avocado
2012 - We lost our few new season Hellen avocado to possums, but so far the Hass fruit have had minimal damage. I haven't re-baited the Timms traps, or refilled the bait stations for several weeks - a big mistake. Bitter experience says a pause in possum damage is a prelude to another wave of voracious varmints.
We picked a new season Hass fruit on size, and ripened it with an apple. It was edible, but it was tasteless rubbish, really. I had hoped for better. Still, I'll try again soon. We sorely need a reliable winter fruiting avocado. With that in mind, we have bought six
'Carmen Hass
' avocado trees. In California, this variety has an 'out of season' flowering in mid summer, as well as the usual spring flowering. The fruit set in mid summer, then mature in august. (Carmen Hass also has a small late april-may flowering, but it is usually too cold to set any fruit.) Apparently, around 40% of the crop can be these august maturing fruit. But this is very variable. Another virtue of this variety is that Carmen is said to be a more compact tree than Hass, which tends to be spreading and open.
Livestock
2012 - The new season lambs arrived over the last two weeks, 7 lambs from 6 ewes. This is a much better result than my efforts to graft the avocado seedlings in our mini-trial area - 4 grafts 'probably' successful of 11 seedlings grafted.
August 17th
Weather
2013 - the highest temperature reached in the last 4 days was 17oC, the lowest was 9oC. We have had rain, rain, and more rain over the last few days, but today was clear skies and sunshine all day. Some of the weather has come from the north, which is a bit odd.
2015 - We have had lots of rain over the last week or so, but also days that are partly or totally sunny. There have also been some totally overcast days. A few days have been quite cold, mainly when the wind is from the south. There have been a couple of frosty mornings in the valley, and we have had a light ground frost in some places. Overall it has been relatively mild, especially when the breeze has been from the northeast, as it has sometimes been lately. The ground is very boggy, but more rain is predicted for later in the week.
Nature
2015 - the raupo seed heads are slowly falling apart, exposing their fluffy interior. A tiny grey warbler collected a beakload for its nest. A lone monarch butterfly fluttered through the garden. Spring is here.
Plums
2013 - the first Pixie plumcot flowers are now open.
Avocado
2013 - Some Hass avocado flower buds are starting to grow out their panicles. Carmen Hass continues to flower. It never seems to stop. New growth is starting from the tips of the panicles. Carmen is said to have 'explosive' new growth from the ends of the flowering panicles, so I am interested to see if that will be the case or not.
2015 - Carmen Hass continues to flower, but while little pinhead fruit set, they invariably die. Curiously, they don't seem to drop readily, keeping false hope alive. The early-winter set fruit from june 2014 are starting to show a hint of color change. The The Hass trees are in fat flower bud, as is Hashimoto. We picked some Pinkerton fruit on size a week or so ago, and they have started to ripen well. We have tried 2 so far, and they are very, very good.
Hazels
2015 - Campanica, Lansing and Butler still have good numbers of female flowers open. However, there is little in the way of catkins open to pollinate them.
Tropical guava
2015 - we have a few small tropical guava seedlings, grown from a locally fruiting red-leafed, pink fleshed plant. They have a few fruit on them, and there is now the very beginning of a change in color, in indication of the beginning of ripening.
Macadamia
2015 - it has been a bumper year for macadamias, and especially Nelmac. They have been dropping for a while, and are still dropping. I like Nelmac - even though it has a thick shell - as much for the fact it splits very well from the outer husk, and is easy to shuck as a result. Rats have started on the nuts, so today a second round of baiting was done. The bait is put in bits of drainflo or in clay field tiles that are jammed into a crotch of the tree, higher that sheep can reach.
Cherimoya
2015 - the fruit are a month off ripe, but possums have started on them. The trees have had a light prune, but really need to be radically thinned. A job for 'some day'.

August 19th
Weather
2013 - The high over the last few days was 17oC, the low was 6oC. It was sunny in the morning today, then overcast and a little rain, but no wind. The rain has not been cold. The weather continues to be from the north.
Tangelo
2013 - The Dweet tangelos are now sweet, altho' they still have quite a lot of acidity with it. They are very juicy.
2016 - Got about 6 Dweets. They are delicious, if a bit acid. It was a good crop on the tree...but the possums got almost all them.
Guava
2016 - a few seedling wine-red leafed tropical guavas are ripe.
Avocado
2016 - We have quite a good crop on the trees this year, but so it seems, does everyone else. The markets have lots of reasonable size early-picked ethylene-ripened fruit at about $2. If they are this cheap at this stage of the season, they 'should' be a lot cheaper as the main picking season starts.
Pests
2016 - possums continue to thrash the cherimoyas. They 'shouldn't' be ripe until october, altho' last year they weere good in september. The possums obviously thing august is aa better date. We have 4 kill traps and 2 poison bait stations under the tree, but no luck in killling it/them so far. We have tried switching lures between peanut butter, mixed spice, cinnamon, and jam; and bait of carrot and/or apple, but nothing seems to work.
Nature
2016 - A good size group of Californian quail are on the place, which is wonderful to see. Several ducks have appeared on the tiny pond. Perhaps they are nesting in the raupo.

I found a large ornate skink (
Oligosoma ornatum
) when shifting piles of sodden chipboard rubbish for the inorganic waste collection. Sadly, it was crushed in moving the rubbish, and died. I forwarded the body to a herpetologist in the interests of science. Apparently these skinks are rarely seen, as they are crepuscular (only becoming active at twilight). These skinks have a very limited territory of only a few square meters. They need dark humid piles of vegetation, and often found in environments with rocks. The skinks we have come across here have been in piles of leaves in the shade of bamboo planted near rough concrete, or within the southern aspect of the house by a retaining wall. The retaining wall has substantial amounts of very large grade scoria behind it, perhaps providing a suitable ornate skink habitat. Ironically, both these situations are man-made environments. According to the Department of Conservation, this species is in decline, presumably due to cats
August 21
Weather
2013 - Rainy overnight, easing in the morning. Totally overcast, with showers and gusty northeasterly wind. The overnight low was 10oC, but the daytime temperatures yesterday only reached 14oC.
Avocado
2013 - finally got around to chucking some calcium sulfate under the avocados I consider most 'at risk' from phytopthora - either because I know they are infected, or think they might become infected due to less than optimal soil conditions.

August 23
Weather
2012 - Sunny and warm, and the Pixie plums are in full bloom and alive with bees. A swallow darts overhead. Spring is here (more or less). We need the sun to hang around a while to dry out the pasture a bit and get the grass going.

Plumcot
2012 - The plumcots are getting into the swing of flowering, with the exception of Spring Satin, which only has 1 flower bud almost out. This is interesting, as last year Spring Satin was the first stone fruit to ripen a fruit on the property. The Santa Rosa apricot has a good number of flowers open. It is in a nice sunny position, yet there are no bees on it. A Kirby plumcot just 5 metres away - and slightly shaded - has a good number of bees
and
a bumblebee. I guess Santa Rosa just doesn't offer as much nectar. It was planted next to a newcastle apricot, and it has had a fairish number of fruit in the past. Not good numbers, but not too bad. The Newcastle has died, and last year we had only a few Santa Rosa fruit. Maybe the problem is both lack of a pollenizer
and
relative unattractiveness to insects.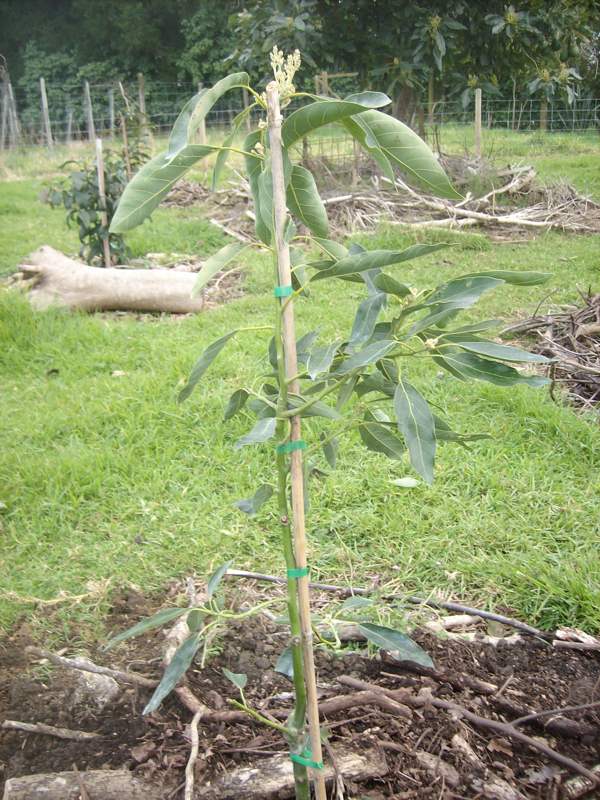 Avocado
2012 - The weather is fairly warm, and there is no risk of frost, so I planted out the Carmen Hass. Notice that there is a well developed flower raceme already present. If the plant does set fruit, they will be removed, so all the energy is channeled into growing. A bag of pine bark-based potting mix has been added to the soil to help with aeration and drainage. The soil is mounded up slightly, and bits of dead branch and leaf placed on the surface. Avocados are forest trees whose feeder roots live in the litter layer, which is very free draining and light. The decomposing branches eventually add nutrients, but more importantly, the fungi that decompose cellulose are known to help to control the dreaded root rot organism (
Phytopthora
sp).

August 24th

Weather
2014 -Sunny, fine, totally clear skies. The last 3 days have been the same. There is however, a cool breeze playing at least some of the time. It is hot in the direct sun, cold in the shadows. The nights are clear and cold, but not very cold. Today is calm and utterly still.
Stonefruit
2014 - The first plumcot blossoms are open.
Kiwifruit
2014 - all the kiwifruit are totally dormant and leafless (apart from an 'out of synch' male seedling which has a few new leaves and has had flowers for probably about a month now!).

Avocado
2014 - The bigger Carmen Hass trees continue to have a small number of flowers on the go. Fuerte is the only other variety with flowers open at this time (apart from a seedling tree by the house). We picked the entire Fuerte crop, as we saw possums were starting to attack them. A grand total of 12 fruit from a big tree. Pinkerton continues to hold its crop nicely, and we should be able to pick these progressively over september and october. Hass fruit should be cheaply available from november on, as this years massive commercial crop hits the local market.
August 26th
Weather
2012 - The third sunny, warm day in a row. A little bit cloudy, but lots of sun in between. Once again, the Pixie plum is reeking with pollinating insects - bees, bumblebees, monarch butterflies(!). The plum Duffs early jewel is in full-on solid bloom, but the Billington is coming to the end of its flowering and leafing out. A Fortune plum has just started flowering. The little Heard pollinizer tree has some flowers, but not a huge number, and is starting into leaf.
2013 - There has been some very heavy rain over the last few day. But today it is foggy and cold in the morning. At least its not raining. Totally still. The fog went in early afternoon,and we had a patch of sunshine, soon to be replaced by wind from the west and overcast conditions with the odd shower. The daytime high was 15oC. The lowest it dropped to in the last few days was 7oC.
August 27th
Weather
2013 - heavy rain last night, but the morning has dawned sunny, breezy, passing rain showers, cloudy. Real spring weather. It is quite warm. At 11.00 am, there are no bees around, even on the lavender hedge, which is very unusual. I finally found a single big bumblebee, but that was intent on a fragrant white azalea, and didn't seem interested even in the adjacent lavender.
What a difference 40 minutes makes! A re-check of the pollinating insect situation at 11.40 found a lavender hedge full of bees and 2 bumblebees, the plum (and especially the plumcot) blossom with a good number of bees, several bumblebees, and 4 slightly tatty-winged monarch butterflies! I checked the temperature in the shade - still 15oC. The difference between today and yesterday is that the sun allows direct 'on the body' radiant heat warming,which for flying insects, is very important.
Plums
2013 - . Duffs early jewel has been flowering for a few days now, and Pixie plumcot is in full heavy bloom - around 2 weeks earlier than usual. The satin plumcot is only in flower bud as yet. Heard is also in flower.
2014 - a smattering of bloom on Pixie, and that's about it. Full bloom is a little way off yet.
Apricot
2013 - Santa Rosa has its first flowers open.
Avocado
2013 - a 'size picked ' Hass put in a bag with an apple, alongside a seedling fruit ('ruby') from an 'in-graft' in the Hass tree have yet to ripen. The ruby had a little color on one side, and now is fully colored, but not yet soft. I rubbed the natural 'bloom' off to make it look shiny, so it lives up to its name! Ruby is a very good quality fruit, but while it clearly matures a little earlier than Hass, it has a large seed, the fruit is small, and what is worst of all, it is relatively unproductive. The branch from which I picked this fruit is probably around 2 metres long, and hold just 8 fruit. An adjacent Hass branch in the 'host' tree, also about 2 metres long, has 16 fruit. Hass is the king, lets face it.

August 29th
Weather
2013 - The warmest it reached over the last few days was 18oC, probably mid afternoon on the 27th. At noon today it is 15oC. The lowest it reached since the 27th was 8oC. We have had black skies and rain yesterday, and heavy rain in the night. In the morning, I took the opportunity to trudge around in the rain chucking urea under subtropicals (and under the maxipinons). The morning was calm but stayed rainy with totally overcast black skies right up to noon, when the sun finally appeared. I heard the first shining cuckoo song. It must be spring.. By 1 pm it was raining again, and a blustery westerly had picked up. There is sun forecast for the 31st through to the 4th of september, but with pretty low daytime highs (15oC). It will still be warm enough for the urea to be useful.
2014 - Fine, sunny. It has been like this since the21st. The only difference is that there is a strong gusty easterly blowing.
Citrus
2013 - Lemons and grapefruit are now ripe. Fruit picked from the Dweet tangelo are spot-on ripe. It's importance to 'try' each fruit - if it picks readily, it's ripe. If it resists being detached, its not yet ready. Ripe fruit are now sweet, with an acid zing, very juicy, and easy to peel. The tree has a good crop, and varmints haven't touched the, which is a big bonus.
Macadamia
2013 - new season flower racemes continue to lengthen, and nuts continue to fall. There are heaps on the ground again, and I will have to make time later to pick them up.
Hazel
2013 - San Giovanni has started pushing out some leaves. Campanica has the beginnings of leaf push-through, and Barcelona has very advanced leaf buds and is not far behind. These are the earliest of the recently purchased Waitara hazels to leave winter dormancy.
August 30th
Weather
2014 - Strong gusty easterlies, cold because of the wind. Totally overcast and drizzly.
August 31th
Weather
2015 - Warm rain, light rain, and drizzle. Totally overcast. Weather is from a northerly quarter.
Macadamia
2015 - Heaps of nuts have fallen, and continue to fall. I have been more 'onto it' with the rat baiting in the nut area, and there is less damage. The rats seem to prefer a variety with small, sweeter nuts, so they concentrate their efforts there (and on a Hawaiian variety nearest the native forest - we don't bother with it because the green outer husk is hard to remove).
Almonds
2015 - A few days ago the Monovale almond tree was a solid mass of pink blossom - very beautiful. What was striking was that the tree had large numbers of bees and bumblebees in it, in spite of the air temperatures being fairly low, albeit it was a fine clear day.

Stonefruit
2015 - Pixie is flowering well, the Kirby plumcots are starting to flower.
Avocado
2015 - Fuerte continues to flower. It has been flowering for some time. The odd bee and wasp or two has been observed on it recently, so the only question is whether or not air temperatures are warm enough for flowers to set any fruit (in the end we had a crop of about half a dozen fruit on this large tree...). The shelterbelt to the north has been removed, so the tree now receives more sun, so that will help temperature levels.
Carmen Hass continues to flower. Its round 'loca' fruit are developing a little more dark 'blush', indicating maturity. If color then is late august/early september, then we guess that the 'loca' fruit could be picked green starting on 1 july and be of at least acceptable quality.
---