Great 'growth' time of year, but can be icy cold.
Tomatoes are traditionally planted after Labour Day, when the soil has warmed.
Rooted kumera 'slips' (cuttings) are also planted around Labour Day, for the same reason. You can grow your own 'slips' by putting a healthy tuber in moist sand and keeping it in a warm place. Kumera take roughly 5 months to mature good tubers, so are dug and 'cured' for storage about March.
Spring weather and avocado production.
September 01
Weather
2014 - Rainy southeasterlies, cold. It rained all night long, water everywhere. It rained throughout the day until mid afternoon, when it eased to totally overcast and drizzly conditions. The high was forecast to be 13oC today, and that would be about right.The weather is said to swing to a northerly influence over the next 4 days, with clearing skies and warmer temperatures. Typical spring.
Bananas
2014 - a bunch of Ducasse bananas on a sucker put aside as a 'spare' ripened. The fruit are very small, the ripe ones have all split, and the green ones are very skinny. In spite of that, the ripe ones are sweet, with very good flavor. They do, however, has a residual astringency.
Macadamia
2014 - Nelmak nuts continue to fall in good numbers. The green husks are now almost all well and truly split open.
Livestock
2014 - the grass is really skinned, and we have been feeding ever increasing amounts of sheep nuts - an expensive business. Bamboo has been an important adjunct feed, along with coprosma, mahoe, and olive foliage. I had hoped to kill at least one old ewe to reduce stock pressure on the grass, but the rain and mud have interfered with my plan. The lambs can start being weaned by mid october, when milk will supply only around 10% of their diet, if that. Temperatrures

September 02
weather
2013 - sunny all day, still in the morning, and a breezy southerly in the afternoon. The lowest night time temperature in the last few days was 5oC. The temperature in the shade at both 9 am and 3 pm was 15oC. The highest temperature recorded in the last few days was 18.5oC.

Plums
2013 - Still flowering, there are lots of bumblebees and bees on the plums, and on the Pixie plumcot in particular.
September 4

Weather
2014 - rain. The weather is turning to the east.

September 5
Weather
2014 - Easterly conditions continue. It rained briefly in the morning, then the sun came out until about 3 pm when thunder and some lightening rolled in, with rain until 5 pm. Very warm. T shirt weather, according to a whanau member. There was a relatively brief torrential ultra-heavy downpour in the city, almost

September 6
Weather
2013 - yesterday was very cold in the morning - bleak, really - but sunny in the afternoon. End of day reading was a high of 15oC. The low over the last few days was 5oC.
2014 - low cloud, totally overcast, warm, still. A brief heavy rain about 3 pm, then overcast again. The rain guage says we have had 125 mm of rain since

Avocado
2013 - the small Carmen appears to have set some pin-head size fruit, It will be interesting to see if any hold on. The Dusa tree has a nice number of flowers open. There is an ant in every one, so clearly nectar is being produced.
2014 - Pinkerton fruit continue to hold well on the trees, although I did find one on the ground today. I sloshed around in the warm rain throwing urea under these trees.
Stonefruit
2014 - the Kirby plumcots are only just beginning to open some flowers, while the Pixie plum has a good number of early flowers and lots of flower buds at the point of opening.
Bananas
2014 - the plants look pretty battered and torn, and the foliage is rather yellow. There are two or three bunches of fruit, and one is nearly ready (the fruit are starting to split, anyway). These bunches that 'mature' over winter and early spring are not very good.
September 8th
Weather
2012 - The last few days have been mixed sunny and overcast, but relatively warm. The maximum air temperature over the last 4 days was 20oC, the minimum (overnight) was 10oC. At midday it was 18oC. Temperatures are expected to drop over the next few days.

Stonefruit
2012 - Although it has been very warm all morning, it is very windy. In contrast to some of the days in late winter, the blossom has very few pollinating insects in it - just a few bees.

Plumcots
2012 - The plumcots still have a lot of blossom on them, but they are past their peak. New leaves are pushing through the blossom.
The new plumcot 'Spring Satin' is now in full bloom. The flowers are small and pure white, rather attractive, really. Knowing it was going to rain, I hand pollenized a few flowers with the last remaining apricot flowers, hoping to maximise the set.

Plums
2012 - The early pollenizer varieties, Billington and Heard, have finished flowering, and the apricot trees have only a few flowers remaining. The plum 'Black Prince' is at about peak bloom. Santa Rosa is flowering well at this time, and I hope it is a good pollenizer for it - especially as the canopies now touch. 'Elephant heart' is on the other side of the "Black Prince' tree, and it is in early bloom. It hasn't set much fruit for us over the years, but with Santa Rosa now flowering well, we hope for better results.

Peach
2012 - Some peach blossom is now open, and more will follow.

Avocado
2012 - Virtually all the avocado trees are are just starting to show growth flushes. I gave the trees a good sprinkle of NPK fertiliser when it was raining about a week or so ago, and this should help the trees cope with the demands of both flowering and producing new extension growth.
We have caught two or three young male possums over the last few weeks, but not before one had eaten a new season far-from-mature Reed fruit.

Figs
2012 - The figs are just tipping out some green leaves from their terminal buds, and several trees are already showing an impressive number of incipient ultra-early 'breba' figs. The resident figologist was exited at the prospect of the best-ever crop of brebas, but I reminded her that this is 'hormone spray chemical trespass' season, and, going on past experience, we are likely to lose the lot.
Raspberries
2012 - The raspberry plants have leafed out (except for the black raspberries), and are in flower bud. In spite of the best of intentions, the boysenberry plants still haven't been reduced in number, and besides being overgrown with weeds, the paths in the berry cage are snared with escaped boysenberry runners. The berryoligist has a big job ahead of her...maybe I had better give a hand...when I'm not busy...
Tamarillos
There are still a few orange tamarillos on our few scrappy trees, altho the reds are finished. We haven't yet been invaded by the potato/tomato psyillid, so I may grow a few fresh plants to replace the incumbents.
September 9th
Weather
2012 - It has been very windy, with rain (and a thunderstorm) overnight. Overnight temperatures haven't dropped below 10oC.

Livestock
2012 - Several of the ewes were calling to their lambs "all bloody night" according to a member of the whanau. Not a good sleeper at the best of times, she was awake for the better part of the night. The lambs tend to hunker down in some cosy spot and ignore their mothers calls. Or they answer, and she answers back. It can go on and on. One ewe in particular has a particularly high pitched and loud call. She may be one of the first to go when I cut the numbers back next year...The upshot is that it has been 'agreed' that I will shift them to a more distant paddock overnight and bring them back up to the house paddocks during the day. I don't need another chore. Time to de-stock, and maybe move to a system of resting areas for a year so they can re-seed naturally - something I have been thinking about anyway.

Avocado
2012 - We have started to 'size pick' the odd Hass avocado fruit while still dead green. It ripens in 4 or 5 days if it is put in a plastic bag with an apple or banana. The fruit are perfectly acceptable in flavor, but far from the rich flavored fruit of the natural season of early summer.
Decades ago we bought some unusual avocados from a local veg shop. They were round, the flesh was quite dry in comparison to Hass, and had easily noticeable fibres. However, when eaten, the flavour was good to very good, and the fibres not really noticeable. It was an avocado variety called Hashimoto. I had forgotten all about it until very recently when looking for a decent winter fruiting avocado. Hashimoto is said to mature its fruit from june on in New Zealand - or, at least, that is when they mature in the Bay of Plenty. They might start in may here, but if it has a fairly extended flowering season the late set fruit should be available in at least june. Maybe they will hold on the tree into july, or even august. I don't know.
Anyway, I was fired up and very keen to put a few plants in. The problem was that I didn't think it would be very readily available at the garden centres. So when I found some excellent plants at the Kumeu Garden Centre I was 'over the moon'.
The have gone in beside the 'former' alder shelter belt, and if the windy weather doesn't tear their leaves off, or snap them off at the graft, I am hoping for good growth this season.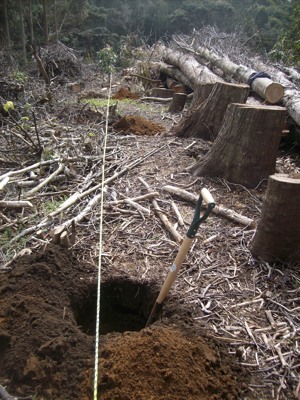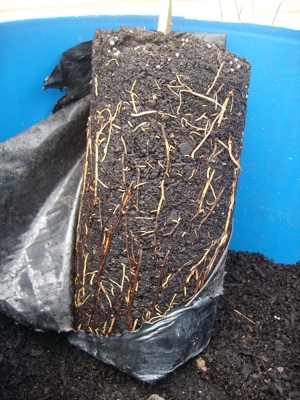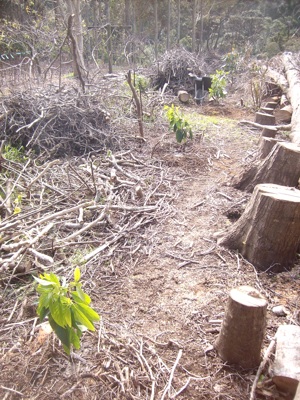 The holes are dug... Excellent plants - healthy roots, in a pine based mix In the ground
I don't know how big Hashimoto avocado trees grow - these will be size controlled from the start - but if they are as naturally small and easy to manage as Pinkerton avocado it would be a big bonus.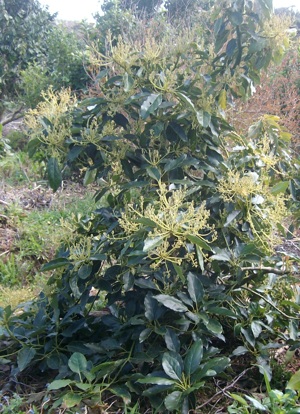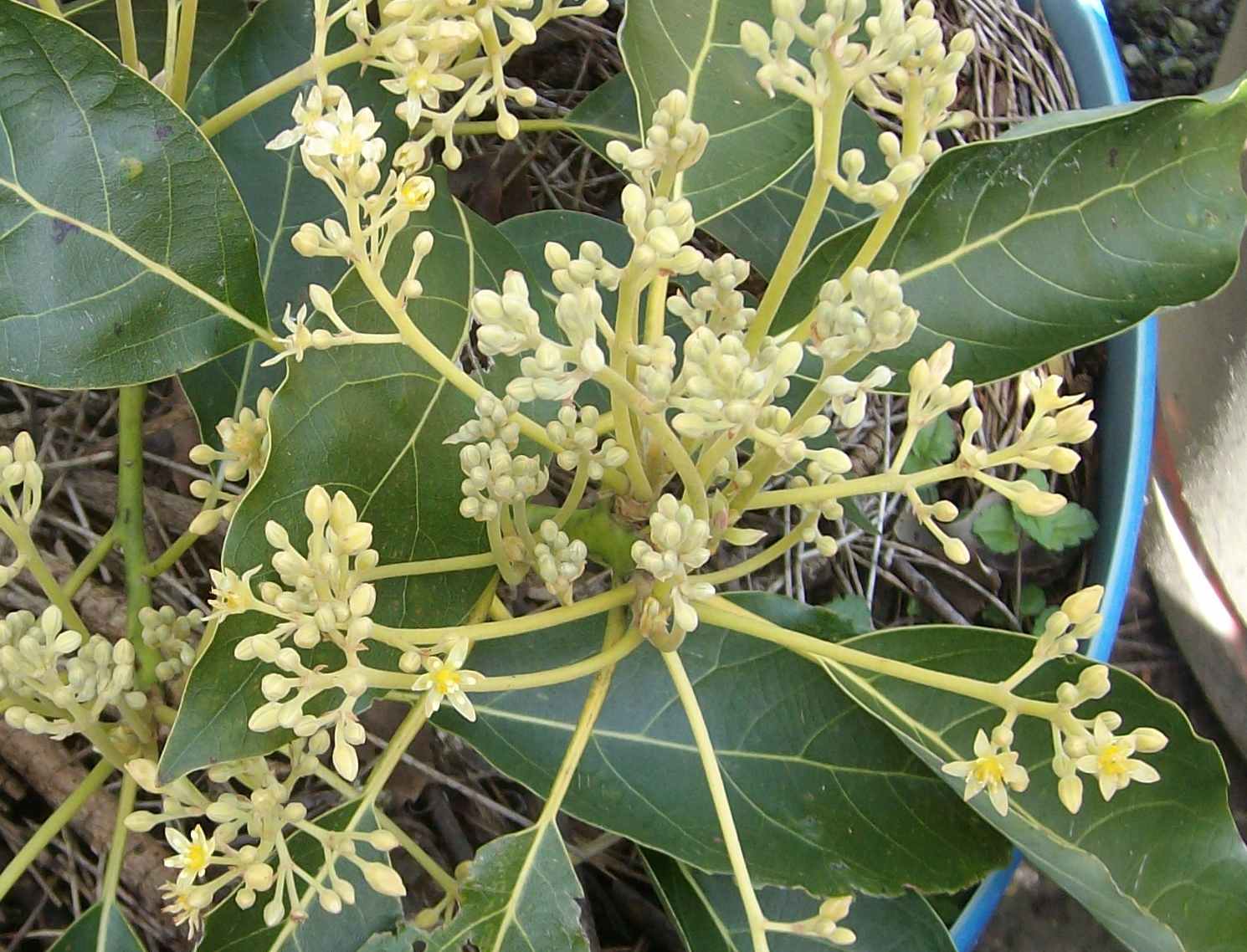 Avocado Pinkerton - a small tree, flowering well Avocado Sharwill with male flowers open - tub grown.
Pinkerton is flowering heavily right now, but I doubt any more than one or two fruit will set - at best. It really does need a suitable pollenizer variety. Sharwill is looking promising, as the male flowers on may tree in a tub (unfortunately a long way distant) have been open and shedding pollen when Pinkerton has its female flowers open. Whether or not there are any insects around at this rather cool and changeable time of year is another matter. Still, there is the odd bumblebee around, both species of paper wasp, and I have just seen my first drone fly of the season. These flies are good pollinators, and are a close mimic of honeybees. Presumably the mimicry dissuades predators from eating them.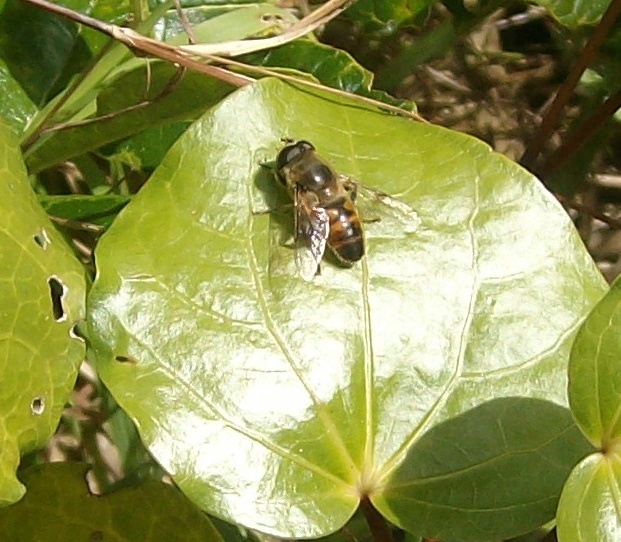 Drone fly,
Eristalis tenax
, sunning itself on a Kawakawa leaf
September 13
weather
2013 - The high over the last week was 18oC. It rained or showered under a black sky all day yesterday, but was still 15oC at 11.00, and the overnight low was a warm 14oC. Most of the weather was from the northwest. Today dawns sunny and calm, and it was 19oC by 1100. Insects have suddenly appeared. The sun held until late in the day, when it clouded over. Rain started falling at 9.30 pm.
Plums
2013 - Spring Satin plumcot is in full bloom.
Cherimoya
2013 - the fruit are pretty much full size. The wet conditions have been ideal for the spread of the black fungal disease that attacks the fruit. I suspect we will get very few fruit in the end. Most will end up rotting on the ground.
Avocado
2013 - the young Hashimoto trees I planted on the 9th last year have done very well. They have put on several flushes of growth, and today, to my surprise, I see they are in flower bud.
Banana
2013 - another bunch has several ripe fruit on it, albeit the rest is dead green. The ripe fruit have split. I'd like to leave it longer for the green fruit to develop more. but it I can't leave it too long or the rats and birds will be attracted.

September 14
Weather
2014 - showers and sun, mostly overcast. Mild. Windy at first.
Avocado
2014 - vast numbers of an 'ink cap '
Coprinellus micaceus
(glistening inky cap, mica cap) have come up underneath the young Hashimoto avocado trees. They were planted hard up against a row of freshly felled
alder stumps
, and two years on, the dead roots are being consumed by this fungus. Apparently it one of the last fungi to colonise dead wood under the ground, preferring wood that has become spongy and soft from the action of the fungi that first spread into the wood. While it lives on dead wood, there is one reference to it inhabiting living tissue, but producing no disease symptoms(technically, it lives as an endophyte). Some endophytes help the tree survive drought by drawing up water through the fungal mycelium deep reaching within the soil. Some fungal endophytes even fight off parasitic fungi. Wouldn't it be nice if the glistening inky cap fought off phytopthora? Still, even if it doesn't, this species is edible, although the reference I have seen are underwhelming in describing its gastronomic worth 'mild flavor' is about as enthusiastic as they get. When cooked (or overcooked), it turns to something resembling snot, apparently...
Plumcots
2014 - Plumcots (except 'spring satin') are now in heavy flower, as is 'Pixie' plum.
September 17
Weather
2018 - It has been an astonishingly warm winter. Spring is shaping up warm, without the normal hail and icy cold days from the south. The cold southern air has been blocked all winter long by warm weather systems coming down from the north - quite unusual. Today is really hot, if breezy. At midday it is 24oC in the shade. The weather forecast is for 'frantic' weather systems from the subtropics coming down later in the week. Yet there is snow to low levels in the South Island...
Nature
2018 - There is a big mob of Californian Quail is using this place as part of its territory. Delightful birds, and a privelege to have them here. Something eats the possum carcases if we are a bit slow to bury them - I hope it is hawks rather than wild cat, for the quails sake. Kaka are using the adjacent forest remmnant as a base again, and they are typical Aucklanders - off 'somewhere' at early hours of the morning, and back in the late afternoon. Their raucous calls and penetrating whistles announce their movements. There are usually 4 birds, sometimes 5.
Cherimoya
2018 - We are at the tail end of the crop. It has been a great season, in spite of a huge amount of possum damage. There are three self-sown seedling trees here that are top notch, very delicious indeed (if you like cherimoyas, that is). Tt would be a shame to lose them, so I may propagate them.
September 18

Nature
2012 - Today, I heard the first shining cuckoo of spring. We have had strong northeasters and later northwesters, so maybe he got a fast ride across the Pacific from the Cook Islands winter feeding grounds!
2018 - How about that - first call of the shining cuckoo today, same as 2012.

Weather
2012 - We have had periods of 3 or 4 days of mixed sun, warmth, strong winds, rain, drizzle. But overall, temperatures have still been around 10oC overnight, and about 18oC maximum (air temperature) - except for one day when it was 2oC overnight! Plenty of frost in the valley that day!
Bananas
2012 - A Misi Liki banana stem didn't survive the strong winds - pity, it would have fruited in late summer.
Avocado
2012 - The little Hashimoto avocado plants have survived the winds The avocados continue to flower, and will for a good 6 weeks yet. The Pinkerton remains a mass of flowers, with big numbers open, but I must say the Hass flowering is not really that great yet. We are in the curious position of having one tree that started flowering in late autumn and has continued all winter (and is still flowering), one tree that started flowering in late winter, one tree that is probably going to start opening flowers in a week or so time, and one tree that is probably 3 weeks or more from any open flowers. I am hoping to reach a better understanding of the inter-relationship between temperatures and insect activity as it effects fruit set in Hass. I Have an impression that significant periods over a minimum temperature has a
very
large bearing on fruit set, and insect pollination is somewhat secondary (for Hass, in particular). We'll see.
Plumcot
2012 - The main Kirby plumcot flowering is over, as is the apricot flowering. Spring satin plumcot is still flowering heavily. I hope it is self fertile, because there is nothing else near it that could act as a pollenizer. Wrights Early plum is still flowering well, as is Elephant Heart. Santa Rosa is fading out, and Black Prince has finished flowering.
Macadamias continue to fall, and the first new leaves of the 'Grabohl' pecan are just emerging. I have neglected to pay enough attention to the right varieties to give cross pollenization in our short row of pecan trees. Looking at some info on the internet, admittedly from the very hot southern USA, it appears that I should have cultivars such as Shoshoni, Wichita, or Cherokee to act at pollen donors for Grabohl's female flowers. We did acquire Shoshoni in 2007, but it is a long way from Grabohl, and the tree has been significantly damaged by puriri moth larvae. Even thin branches have been ring-barked by this troublesome pest. So a little TLC is needed if is ever to grow big enough to take some bits off to graft into Grabohl.
September 20
Weather
2018 - Fine at first, then overcast, then breezy. Humid and warm. It was 19oC in the shade at 1130. Overnight low of 12oC. Yesterday was warmer, hitting 25oC.
Nature
2018 - a mother mallard duck and her ducklings appear on the little pond from time to time. Where they go in between times is a bit of a mystery. Blackbirds and thrushes seem to be marking their territory (singing!) all day long, which is quite delightful. Grey warblers are also suddenly evident, but only the odd fantail at this stage. Native pigeons continue to feast of plum flower and leaf buds, as well as the tender new leaves.
video on twitter:
https://twitter.com/i/status/1037593262511411200
Avocado
2018 - all the avocados are throwing the odd fruit overboard - nowhere near mature, but near full sized. Spring is leaf drop and flowering time, then a new leaf flush, so maybe hormones have something to do with it. One Pinkerton tree has a fair smattering of flowers open in one area of the tree, but none of the other trees have any flowers open, apart from Fuerte and a few (only) on our little Sharwil tree.
September 21
Weather
2013 - A warm day (18oC at 3 pm), but breezy and totally overcast, and in the afternoon there were a few spots of splotty rain from time to time. Northerly. A few days ago we had some cold but clear sunny weather, and night temperatures dropped to about 5oC.
Plums
2013 - Wright's Early is still flowering very strongly, Black Prince is past its peak, Sultan is starting to crank up, the 'Kerby' plumcot is all but finished, and the Spring Satin plumcot is in full bloom.
Apricots
2013 - all but finished flowering
Feijoas
2013 - new growth is under way. The flower buds appear at the base of new growth. This is very handy, because it means you can prune them back hard in winter, and not only will they form new buds on the bare wood, the new growth will generally flower straight away in spring. There are already a few 'out of season' flowers open here and there.
Figs
2013 - new leaves are expanding.
Kiwifruit
2013 - many of the yellow kiwifruit seedlings have lovely lime green newly developing leaves. A few plants have flower buds. The green kiwifruit remain totally dormant.
Bananas
2013 - another clump has a bunch with half a dozen ripe fruit on it. The skin on some of the fruit has split. They taste OK, sweet enough, some flavor, but there is a touch of residual astringency. The green fruit really don't look sufficiently mature to me - they are very 'angular', not plump. These fruit will be from a late summer flowering. Late summer set flowers mature about early- mid spring. but as they are 'filling' over the cold winter season they often not that flash. Flowers that set in mid winter ripen in summer, and are far better as the bunch is filling at the warmest time of year.
September 26
Weather
2014 - warm and sunny. Very pleasant.
Nature
2014 - Spring is definitely sprung. Yesterday I heard the first shining cuckoo of the season. Best of all, two pairs of Californian quail have taken up residence, and the cock birds crow their territorial claim. These are wonderful and engaging birds to have around, and I hope they survive and breed.
Plums
2014 - Pixie plum has finished flowering, but just about all the others are in full bloom.
Peaches
2014 - most peaches are now flowering, and the earliest are in full bloom.
Avocado
2014 - the first few avocado flowers have appeared, but their numbers are passing smallat the moment. Pinkerton is flowering, as are Fuerte and Sharwill. Carmen Hass continues to flower, although the end of its flowering period is probably not far off.
Bananas
2014 - bedraggled and tatty looking, and rather yellow. Sustained heat plus rain is needed for them to take off again.
September 27th
Weather
2013 - Several days ago we had a subtropical front pass over from the east, bringing very high winds, heavy rain, and a closed State Highway 16 (flooding). Today, it is dead calm at 0830, overcast, humid, warm, already 16.5oC. Breezy by 0930, some odd sun moments between low grey clouds. Overcast. By 1030 there were more sunny breaks, warmer, hitting 23oC in the shade! Humid. Dew on grass. Breezy/windy, with calm periods, threatening showers. Lots of insects around. At 1245 temperatures are 21oC. Overcast, bit of wind, humid, warm. About 18oC at 1600, totally overcast.
Bananas
2013 - the plants look pretty tatty and sparse. Blue Java dropped yet another stem. I am increasingly unimpressed with this cultivar.
Hazels
2013 - most have started new leaf growth.
Pecans
2013 - still dormant
Plums
2013 - early plum blossom is over, Elephant Heart and a few others are flowering on.
October 3rd
Lucuma
2018 - the lucuma fruit fell some time ago, and only their seedds and rotted remnants remain on the ground. One tree, however, has just matured and dropped its fruit - well out of synch with the rest. Dead ripe, perfect, but taste-wise, no, I'm still not impressed with these Ecuadorean types. They are far inferior to the Chilean 'seda' types.
October 5th
Livestock
2012- I killed a sheep today as the first move in dropping numbers a bit. She was a small ewe - her mum was a very small ewe from the flock established on Arapawa Island in the 1800's. We ended up with 14kgs of usable meat cuts and a wheelbarrow load of wool, skin, bones and guts to bury under an avocado tree. In the meantime, our only ewe not to have a lamb this season ended up dropping a late lamb, much to everyone's surprise. So 'de-stocking' is not making much progress yet.
Macadamia
2012 - Two macadamia trees continues to drop nuts while at the same time starting to open the new season flowers.
Peaches and Plums
2012 -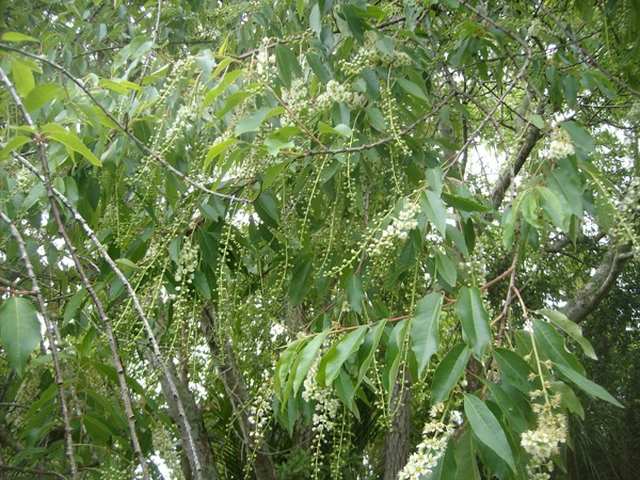 Peaches are blooming well, several pears are in full bloom, and there seems to be a good set of fruit on the plumcots. The spring satin plumcot is just coming to the end of its bloom. It has a surprisingly long blossom period.
Prunus capulin
, the Capuli cherry, has started its bloom. It produces prodigious numbers of flowers that are extremely attractive to bees. When the tree is in full bloom the noise of humming bees is almost deafening.
2013 - the improbably pink blossoms of the peaches continue to intrude against the blue sky.





Pine Nuts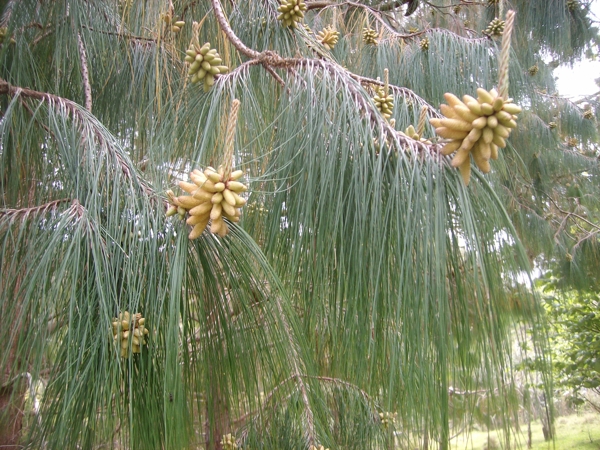 Pinus wallichiana
syn
Griffithii
male strobuli shedding pollen
Pinus koraiensis
male strobuli, not yet shedding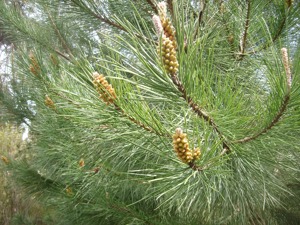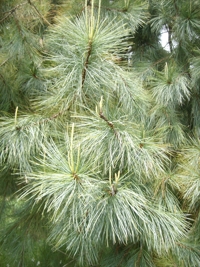 Immature male strobuli on
Pinus edulis
New spring growth on
Pinus maximartinezii

2012 - The male strobuli of several of the pine nut species here are now full size.
Pinus koraiensis
and
Pinus pinea
will start to release pollen soon. An adjacent ornamental species (
Pinus wallichiana syn Griffithii
) is shedding copious pollen.
Pinus maximartinezii
has spires of new growth, but has not flowered yet.
2013 - a small
Pinus pinea
('Umbrella pine) in a tub on the deck is flowering for the first time. The male strobuli release clouds of pollen when the branch is shaken. Interestingly, it is early relative to the 2 trees planted out on the property, presumably because it is in a very sheltered and hot spot. Apparently this species remains as a male-only plant for a number of years before it ever has female 'flowers' (strobuli). The male strobuli appear on the lower half of the tree, and, in time, female strobuli appear on the upper third.
berryfruit
2012 - One of the raspberry varieties is flowering well, and I noticed the first bronze beetle of the season.
Cherimoya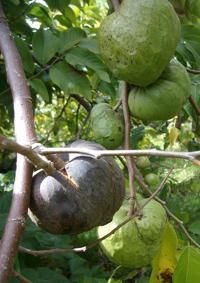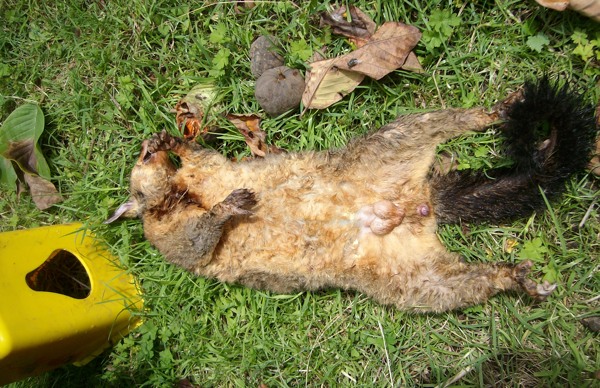 Diseased cherimoya fruit (foreground) Possum and half eaten cherimoya. The 2 fruit and the leaf in the background are
both affected with fungus.
2012 - We have 5 or 6 cherimoya trees here, but while they fruit quite well we don't usually end up with more than a few fruit as the fruit are always infected by some fungus that turns the fruit black and rotten. For some reason this year the infection has been much less, and we have harvested a decem (10) or so fruit, and likely at lest another decem will escape the plinge. The next biggest pest of cherimoya fruit is, as always, the possum. We still don't have a lot of luck catching them in the Timms traps, but we do get the odd one. The campaign of constant bait on offer in 4 or 5 bait stations has helped a lot, altho' a lot of bait is being eaten, and it is expensive stuff.
2013 - a very bad year for the black fungus on cherimoya, presumably in part because of the very wet winter and spring. We have pretty much decided to cut these back to almost 2 dimension trees so the air gets thru them, and to maybe spray with copper after flowering (which is soon).
Avocado
2013 - this is clearly the peak blossom time for Pinkerton. The racemes are fully expanded, and today was warm (22oC in the shade) and humid. The trees are putting out their characteristic odour, and the racemes have attracted very good numbers of bees, as well as the usual wasps and flower flies. Pinkerton may need a male pollinizer cultivar (unlike Hass), and today both Edranol and Sharwill would have pollen available for the later part of Pinkerton's female bloom. Ettinger has pollen that overlaps fully, but the little tree only have 6 or 7 flowers open, so it is a little late. Dusa would be an exact match.
The younger Hass trees have some flowers open, but not a big number. Conditions are ideal for fruit set, I would say (warm nights, warm days, humid, often overcast, a little breeze).
A Hass seedling we have had for years is a solid wall of avocado blossom, and it is dripping with bees and other pollinating insects. Pity it only ever has ten or so fruit (at best).
Leaf drop is well under way in most cultivars. The bronzy-pink new shoot tips are now pushing through the tips of the flower racemes. Hashimoto has bright lime green new growth. It's pleasing to see these newly planted trees growing well, but a bit disconcerting to see the healthy deep green mature leaves being shed. At least the other trees suck much of the goodness out of the tree first, so they are gratifyingly yellow when they hit the ground.
Banana
2013 - 2 more bunches have coloured. There is minimal splitting, so that at least is good. Pity they can't be left to mature a bit more in the warming weather.
8th october
Avocado
2011 - By early october, insect activity on avocado flowers begins to pick up.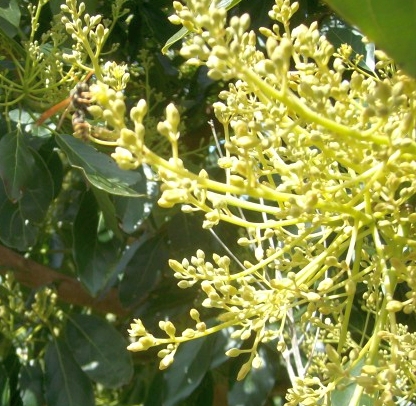 Polistes sp
. on Hass avocado flower racemes.

10th october
Weather
2013 - sunny, some cloud cover, warm
Avocado
2013 - flowering is well under way. The conditions over the last 3 or 4 days have been very good for pollination and fruit set - night temperatures have been 10oC or above, day temperatures 16oC to 22oC, it has been relatively calm, often overcast, and quite a number of pollinating insects are around. Although it is a little early in the flowering season, I would not be surprised if some fruit set on Hass and Pinkerton.
Livestock
2013 - warm weather has really brought the grass on, and at last grass growth seems to be getting slightly ahead of the growing lambs and their lactating mums. The lambs are at (or passed) weaning age. Time to kill one or two, and sell most of the rest.
Plums and apricots
2013 - I thought conditions for fruit set were quite good this year, but the apricots and earliest flowering plums appear to have had a poor set. Mid season and later varieties have flowered quite well, but the flowering seems protracted, some that have had flowers for several weeks, and still have flower buds yet to open.
12th october
Weather
2011 - It rained heavily last night, and again this morning. The sun has come out, and there is no wind, its warm and humid. Rain is forecast for this afternoon and the next few days.
2018 - It rained heavily last night, and continued on and off this morning. The morning was cold, but it warmed later, reaching 16oC (in the shade) at 1145 hours (standard time). The skies are overcast and there is a strong gusty westerly blowing.
Nature
2018 - Kaka continue to camp in the forest overnight. On one occassion there were 6 birds here. Usually it is 4 or 5. There are a lot of birds around this spring, more blackbirds than I have ever seen, goldfinches are making an appearance, the welcome swallows tried to start nest building the moment the garage door is left open for an hour or two, goldfinches are occassional vistors, there is always a fantail or two around, between 2 and 4 fat keruru continue to hammer the almond tree and several select plum trees, 10 to 15 Californian Quail are here most days, and tuis still lurk - although they have gone a bit quiet. The ducks have gone, and the grey warblers now have a very low profile. Cuckoos continue to call from time to time. The odd rosella diverts its 'fly-by' to tank up on the ripe loquats.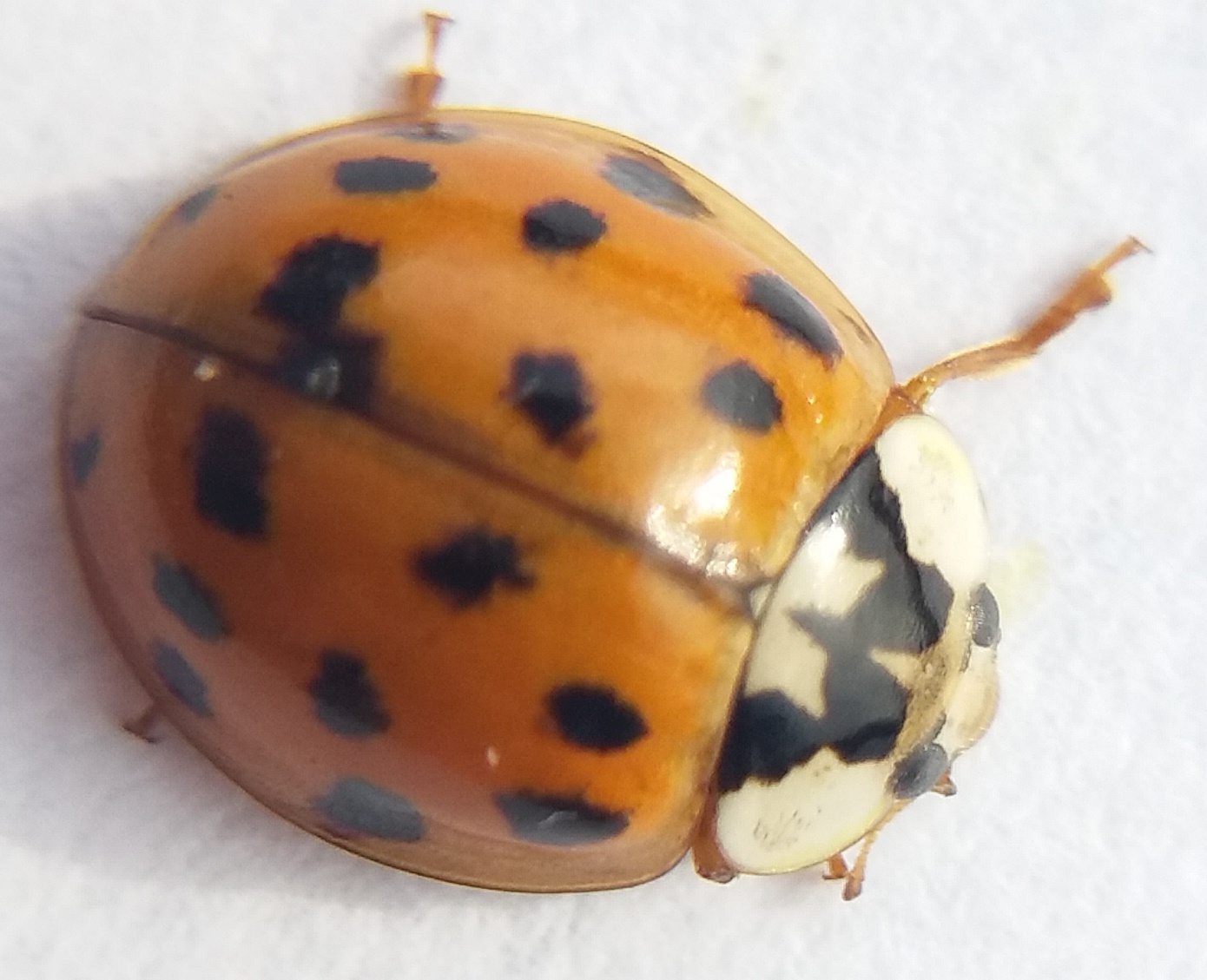 We spotted what is possibly the harlequin ladybird (
Harmonia axyridis
), also known as the multicolored Asian ladybird, for the first time. It was first noticed in New Zealand in Auckland, in 2016, but has already spread widely. (If it isn't

H. axyridis,
then it is likely the large spotted ladybird,
Harmonia conformis
.)
Apparently these ladybirds are immune to internal parasites that affect other ladybird species. But it carries a microsporidian parasite that it sheds in its own eggs. Other ladybird species that eat the eggs (or larval Harlequin labybirds) become infected with the parasite. As they haven't evolved any immunity, they die. However, not all species of ladybird eat Harlequin ladybird eggs, so its effect on New Zealand ladybirds is uncertain.
Like all ladybirds, it eats aphids, as well as other insects, so it is beneficial in that regard - in fact it was deliberately introduced into North America for that reason.
This animal can overwinter in quite large groups. The cool, dry, conditions of the average home appently suits them very well, at least, in cold climates. Whether or not they behave like this in the warmer parts of New Zealand is yet to be seen.These ladybirds likely came into New Zealand as a hibernating group, possibly secreted in gaps in a wooden packing case, or a box of garage-stored books, home utensils or whatever in immigrant or returning New Zealander effects. This is the problem of insects that seek out cracks and crevices, crates, boxes, stored hobby gear, warehoused machinery, parts, etc for winter sleep. When these items travel, the hidden insects travel with them. There is no way of telling which of the hundreds of thousands of items of commerce that land in New Zealand every year might contain dormant insects.
In the end, we must remain alert and contact MPI (free phone 0800 80 99 66) if we see insects in our imported goods.


Subtropical fruit
2011 - Conditions are ideal for growth, and ideal for washing in fertiliser. So I quickly did 'did the rounds', chucking some pelletised general fertiliser under the avocados, citrus, figs, and feijoas. All are just starting out with new leaves and with flowers or flower/fruit buds,so I figure a boost now will really show results in two weeks or do time when leaves are expanding to full size and new growth extending.

Cherimoya
2011 - Orders had been received to pick some cherimoya fruit, which are about ripe from here on. We have a constant battle with possums over these fruit. They love them. And, as always, they are taking a big toll on the unripe fruit.
2018 - Cherimoyas were exceptionally early this year - they were mature in July, and are coming to an end now. Usually, they don't start ripening until now! As usual, possums are hammering them - but we have had good success using a live trap and lashings of cherimoya, avocado, apple, and citrus fruit as bait.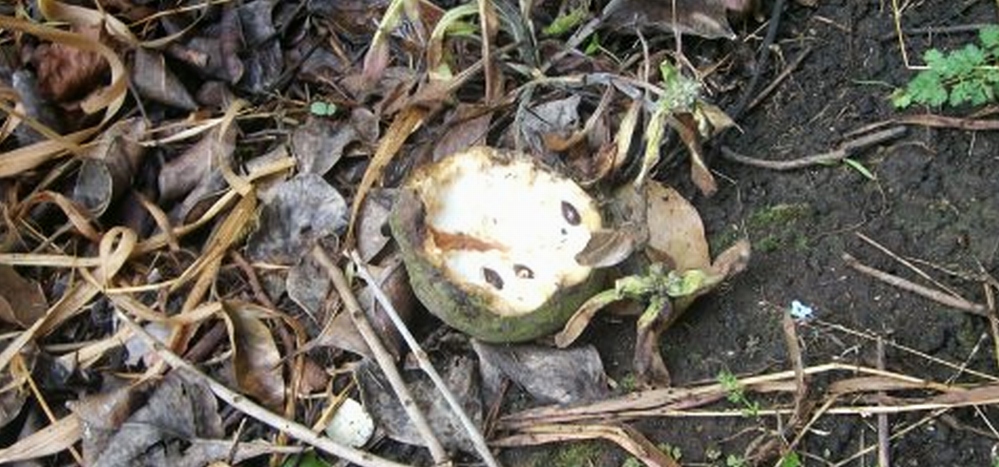 There are 2 Timms kill traps set under the tree at all times during the fruiting season...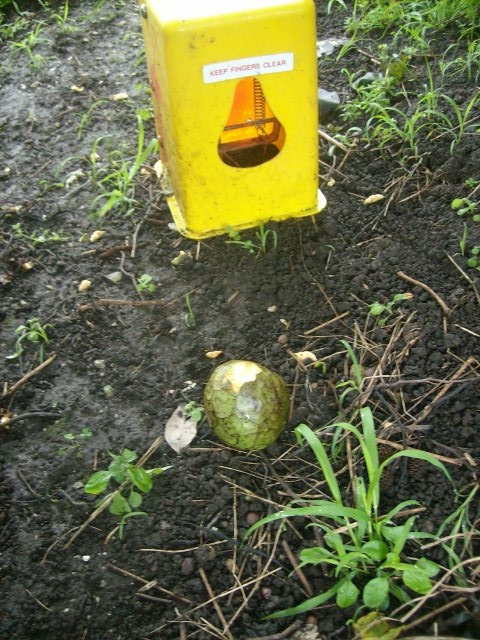 as well as a bait station nailed to the base of the tree, with fresh cinnamon scented pellets constantly available...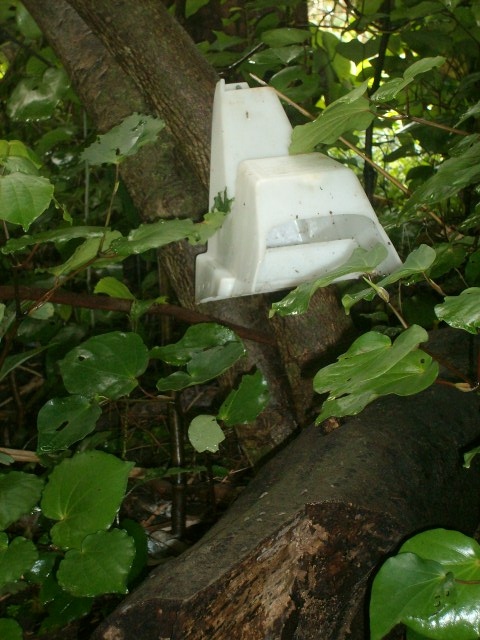 But all to no avail. The possums rarely feed on the bait in the bait station. They ignore the fresh apple in the kill traps. We have tried sprinkling the apple with cinnamon, with curry powder, we have tried plum jam, marmalade, and even peanut butter. True, we did catch one hedgehog and one rat, but zero possums.I'll have to think of a new strategy, and have something in mind.
Rats are the number one problem for anyone with an avocado or macadamia nut tree. But at least they take bait pellets. We are right next to a patch of native forest, so we have an inexhaustible supply of rodents and possums. And rats love both avocados and macadamias. Indeed, for the first time, we have had a rat that not only ate the whole avocado fruit, but started to eat the seed as well!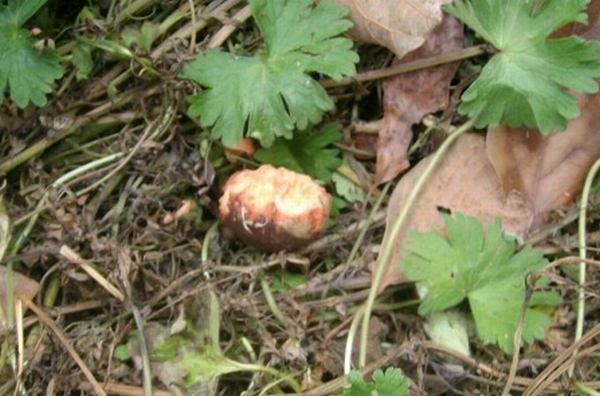 One rat, in particular, lunched freely on the chook food at feeding time, and became so cocky he would come out in full view at the rattle of the feed tin. However, we have far more luck with the live traps for rats than we do with possums. These small spring-loaded traps are super reliable if you do two things - first, spray them with a zinc rust protective coating; second, always test the door can close cleanly when the trap is triggered, and the wire door lock is set properly. We have had far more success with these live traps than we have ever had with kill traps.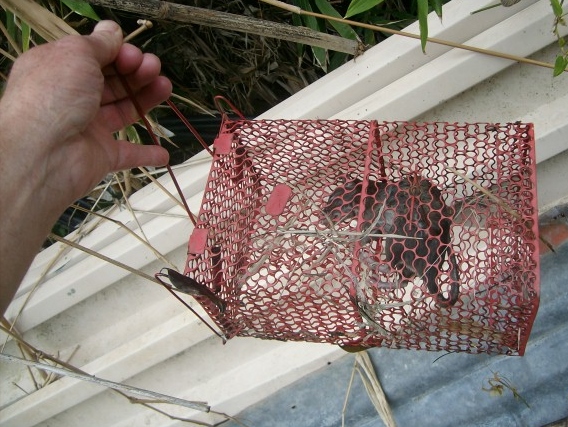 Debrief after a quick underwater swimming lesson. He received a 'fail' grade.

Livestock
2011 - Sadly, one of the twin lambs received a 'fail' grade in the test of life...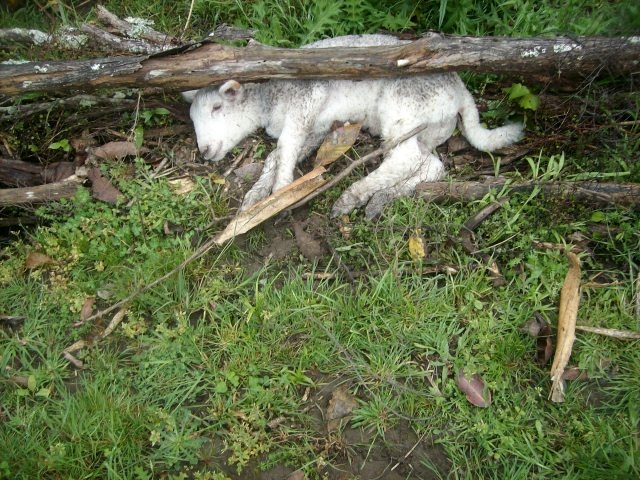 As near as I can make out, he had slipped on steep ground in the 'back paddock', and managed to inextricably wedge himself under a fallen kanuka sapling. Well, as every farmer knows, if you have livestock, expect to also have deadstock. Pity, He was a big boy, and from his weight as I took him for recycling, was growing very well before his precipitate demise.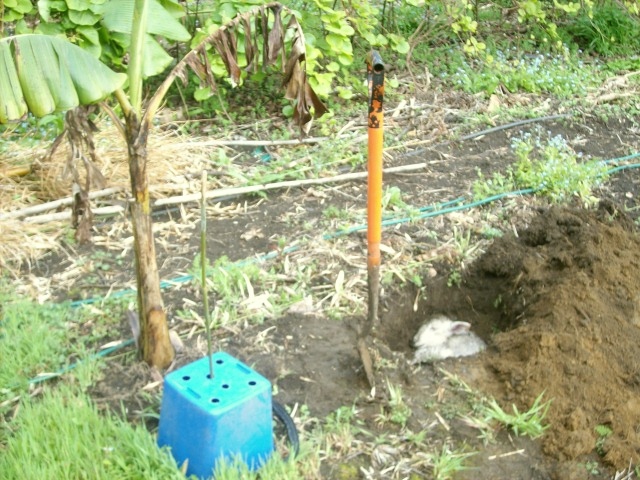 He has been buried near a newly planted banana. We will eat him yet, but not directly...give it a two years or so.
Bananas
2018 - sods law - 3 bunches are all ripe at the same time. You can only eat, freeze, and give away so many...frozen overipe ultra sweet bananas whizzed up with frozen blueberries and a little milk are pretty good. Probably adding yoghurt would cut the sweetness. The Goldfinger variety remains the standout - its flavor is unique - slightly acidy, mildly sweet, fragrant. Very morish. A gourmet banana. Pity its a slow producer, and has far fewer bananas on a bunch than the others.
Avocado
2018 - Leaf drop has been going on for some time now. This is the prelude to the spring flush of new growth. It is always accompanied by the odd full size new season fruit being thrown overboard before it is fully mature. These are usually rubbish - bland, a little sweet sometimes, perhaps slightly watery. But there is the odd suprise. We learned from an 'off-ed' Hashimoto fruit that it is actually quite nice in early October. Not as richly flavored, moister, but good.
Flowering is well under way for Pinkerton, Fuerte and Sharwill, but is barely beginning for Hass, Gwen, and Maluma. We picked a good sized Maluma, and it ripened as a delicious fruit. Thin skin avocado varieties tend to split their skin at the base (botanically the apex, actually - but we won't go into that...), and this damage may trigger some ethylene production, and thus early fruit fall. Certainly, a good smattering of thin skin fruit with splits have - literally - 'hit the deck'. Invariably they bruise when they fall. Worse, the split skin is an ideal entry point for flesh-eating birds like blackbirds. They are half eaten by late in the day, so you have to be quick. One such 'thin skin' variety is Sharwill. Our heavily pruned little tree had a magnificent crop of two fruit this year. Of course, one split, was ejected from the tree the other day, and half eaten by birds before I found it. So I picked the one remaining fruit and took both inside to ripen. The damaged fruit ripened quickly, and even although this is probably a bit early to be picking Sharwil, it upheld its reputation as the world's best tasting avocado. It really was a delight. Pity they fruit extremely poorly under our conditions.
16th october
Weather
2011 - The recent days have been a sunny with overcast periods,quite breezy, and varying from cool to mild. Some nights have been rather cold. Overnight minimums have been around the 10oC mark, so grass growth is strong.

Livestock
2011 - The twin of the lamb that died has also died. Again, it is a big healthy lamb, and mum is bursting with milk, so it remains a bit of a mystery.

Avocado
2011 - Blossom is trailing off now. New terminal growth is pushing through the avocado panicles, and the Hass trees are now flowering well. There are very few bees around, but a good number of german wasps, some bumblebees, the blowflies are multiplying, there are lots of little midgey-things around, and so pollinisation shouldn't be inhibited. We'll see.

17th october

Banana
2011 - Two of our banana plants flowered back in late febuary. This is really the wrong time of year to fill a bunch of bananas, because the weather becomes cool and the bananas stop swelling over winter. One bunch, in particular, was quite well formed by winter, so I pegged a piece of clear plastic around it to keep it clean and maybe raise the temperature on the bunch to aid ripening.
I checked it pretty regularly, but it showed no sign of ripening, even as late as a couple of weeks ago. When I checked today, I found that both bunches had suddenly started to ripen. About 50% of the fruit were yellow.
The ripe fruit in the covered bunch had virtually all split, albeit not badly in most cases.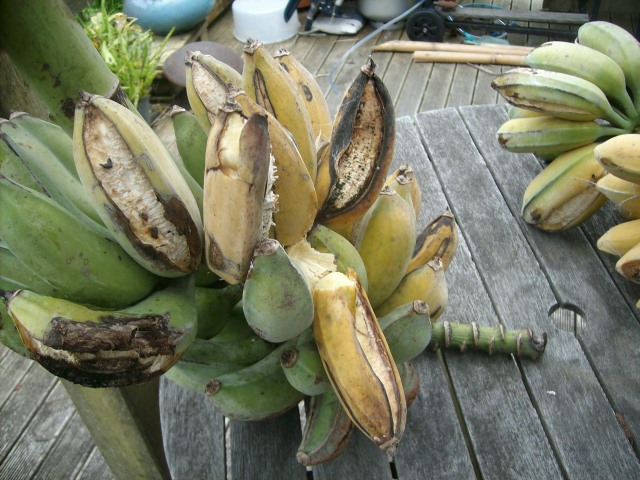 The uncovered bunch had also split, and split badly.
Individual fruit are easily damaged when a banana bunch has this many ripe fruit. Even laying it on a table will cause some split ripe fruit to tear and fall out of the skin. It is difficult to remove individual ripe fruit from the bunch without them tearing.
The better bunch had over 80 fruit, the smaller one had 58 fruit. The worst went to the chooks, a good number were frozen for use in banana cakes and the like, and the least damaged were kept for fresh eating. The flavor of the bananas in the larger bunch was very good, while the smaller bunch had acceptable bananas, fairly sweet, but rather bland.
These late-summer set fruit took about 7˝ months to mature.